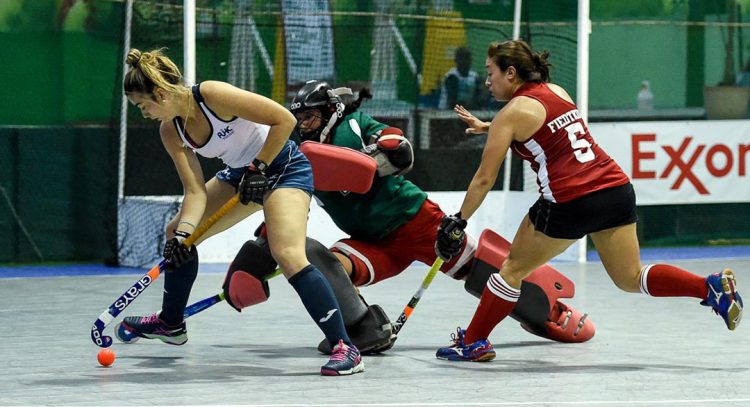 Guyana defeated Barbados 5-4 in the Men's division, to cap off a mixed day, following losses to Uruguay and Argentina in Women's section, when the Pan American Indoor Hockey Cup commenced yesterday.
The Men's team recorded the only win for the locals at the Cliff Anderson Sports Hall, Homestretch Avenue, led by a hat-trick from Robert France in the sixth, 14th, and 36th minute, while Hilton Chester and Jamarj Assanah added goals in the 24th and 33rd minute each.
For the Barbadians, Che Warner bagged a double in the 25th and 28th minute, while Akeem Rudder and Neil Franklin scored in the 32nd and 38th minute correspondingly.
However, that was the only moment of joy for Guyana, as the local ladies lost to Uruguay 4-3, before going to powerhouses Argentina 3-0. Against the Uruguayans, Trisha Woodroffe, Aliyah Gordon and Nicole Eastman scored in the 13th, 23rd and 38th minute apiece.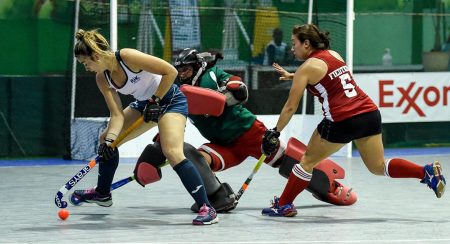 For the victors, Agustina Nieto, Teresa Viana, Milagros Algorta and Constanza Barrandeguy scored in the fourth, 15th, 22nd and 39th minute each. On the other hand, Argentina relegated Guyana to their second defeat via goals from Julieta Luna, Maria Narvaez and Josefina Castaneda in the 12th, 13th and 34th minute each.
Guyana will return to action today with two matches. In the Men's division, the Guyanese will battle Trinidad and Tobago at 4:45pm today, while the Ladies will oppose Canada in the earlier match at 1:00pm.
Comments

(Reuters) Three USA Gymnas-tics board members resigned yesterday in the wake of its former team physician sexually abusing female gymnasts, a step the organization said would support its reform efforts.

(Reuters) – The presidents of world soccer and world athletics are set to be snubbed by the International Olympic Commit-tee (IOC) next month when the body is likely to again overlook them for membership, a source told Reuters yesterday.

BRIDGETOWN, Barbados, CMC – The Vivian Richards Cricket Stadium in Antigua will host the final of the Women's Twenty20 World Cup later this year, the International Cricket Council confirmed yesterday.

By Charwayne Walker When Tagenarine Chanderpaul reached three figures against Barbados at the Kensington Oval in the ninth round of the Cricket West Indies Digicel-sponsored Regional four day championships earlier this month, the son of the legendary Shivnarine Chanderpaul had placed himself and his father on an elite fathers and sons list who had the distinct honour of scoring a century at the Regional First Class Level.

By Romario Samaroo Guyana Jaguars Head Coach, Esaun Crandon said Sunday that excellent preparation and planning were the factors mainly responsible for the Guyana Jaguars winning the just-concluded Cricket West Indies (CWI) Digicel Regional four-day competition.