Guyana defeated Barbados 5-4 in the Men's division, to cap off a mixed day, following losses to Uruguay and Argentina in Women's section, when the Pan American Indoor Hockey Cup commenced yesterday.
The Men's team recorded the only win for the locals at the Cliff Anderson Sports Hall, Homestretch Avenue, led by a hat-trick from Robert France in the sixth, 14th, and 36th minute, while Hilton Chester and Jamarj Assanah added goals in the 24th and 33rd minute each.
For the Barbadians, Che Warner bagged a double in the 25th and 28th minute, while Akeem Rudder and Neil Franklin scored in the 32nd and 38th minute correspondingly.
However, that was the only moment of joy for Guyana, as the local ladies lost to Uruguay 4-3, before going to powerhouses Argentina 3-0. Against the Uruguayans, Trisha Woodroffe, Aliyah Gordon and Nicole Eastman scored in the 13th, 23rd and 38th minute apiece.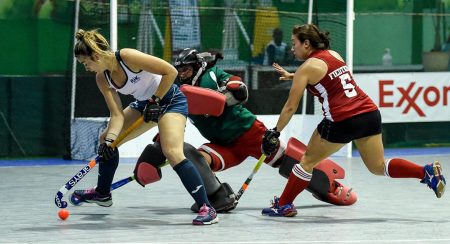 For the victors, Agustina Nieto, Teresa Viana, Milagros Algorta and Constanza Barrandeguy scored in the fourth, 15th, 22nd and 39th minute each. On the other hand, Argentina relegated Guyana to their second defeat via goals from Julieta Luna, Maria Narvaez and Josefina Castaneda in the 12th, 13th and 34th minute each.
Guyana will return to action today with two matches. In the Men's division, the Guyanese will battle Trinidad and Tobago at 4:45pm today, while the Ladies will oppose Canada in the earlier match at 1:00pm.
Around the Web