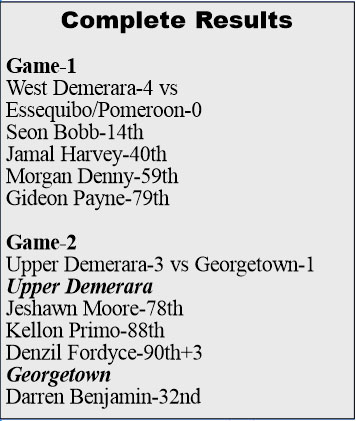 Upper Demerara Football Association (UDFA) upset a depleted Georgetown Football Association (GFA) side 3-1 to seal their berth to the final when the Upper Demerara Football Association/GT Beer Intra-Association Championship continued on Sunday.
In a post-match comment at the Mackenzie Sports Club (MSC) ground, Linden, Calvin Allen, Co-Head-Coach of the losing team said, "Basically the team held its own. It was evenly matched. Linden was trying to get the ball behind us and we were trying to build possession. Both teams had as many chances."
Allen said his side was missing several key players which made it difficult.
"We had many players out and it made a really big difference and really hampered us. Many of the players from the Police team were missing and the team that played only had six players from the original squad."
Despite lacking several starters inclusive of Hubert Pedro, Randolph Wagner, Devon Millington, William Europe, Linden Picketts and Andrew Murray Jr, Georgetown took the lead in the 32nd minute through Darren Benjamin.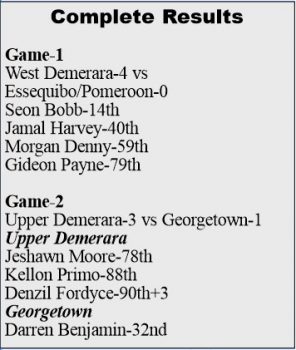 Racing in from the left side of the field, Benjamin directed his header into the back of the net, after latching onto a cross from Shane Morris. This lead was made maintained heading into the halftime interval.
However, the lack of experience in the Georgetown unit was eventually exposed, as the home side fired in three unanswered goals in front of the sizeable crowd.
Jeshawn Moore grabbed the equaliser in the 78th minute, slotting home at the first post, after running onto a cross from the right flank.
The Linden unit then grabbed the lead 10 minutes later with Kellon Primo etching his name on the scorer's sheet, stabbing the ball into the back of the net, following a scrimmage inside the penalty area.
The contest was put to bed in the 90th+3 minute when Denzil Fordyce found the back of the net, directing his effort into the left corner, after receiving a cross from the right side of the field.
UDFA will now face-off with West Demerara after the latter crushed Essequibo/Pomeroon 4-0 in the second semi-final fixture. Seon Bobb, Jamal Harvey, Morgan Denny and Gideon Payne scored in the 14th, 40th, 59th and 79th minute apiece.
Winner of the tournament will pocket $1,000,000 and the championship trophy while the runners-up will collect $600,000 and the respective accolade. The third place finisher will receive $400,000 and a trophy.
Around the Web