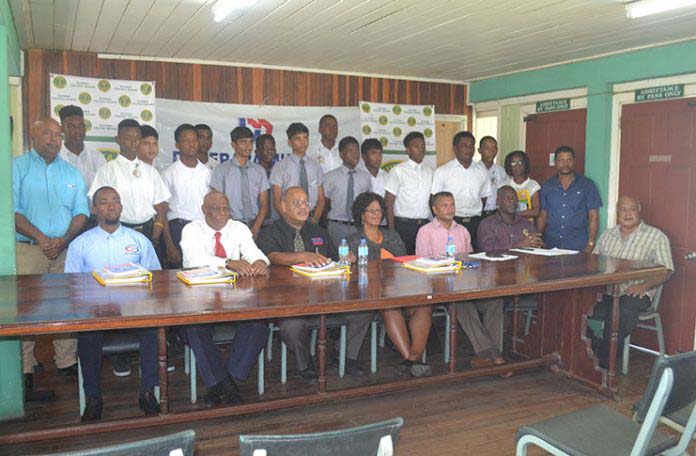 The Guyana Cricket Board on Tuesday launched its National Secondary Schools Cricket League at its office in Regent Street, Bourda.
The tournament, in its third year and sponsored by insurance giants the Demerara Mutual Life Assurance Society Ltd, will see 150 schools competing for a spot to play in the inter-schools district, then onto the playoffs  and eventually to the finals for the top prize.
Speaking at the launch Gervy Harry of the National Sports Commission (NSC) gave an immeasurable motivational speech encouraging the youngsters to be wise, honest and passionate about their dreams of becoming professional cricketers. He added cricket was a career and a journey which is continuous as youngsters go from one level to the next. He congratulated the GCB on its journey of annually launching this event which motivates young crickets in becoming the foundation in the sport of cricket. 
Executive Manager for Marketing and Sales of the Demerara Mutual Life Assurance Society Clarence Perry, on behalf of the sponsors, expressed elation at being onboard for the second year running with the intention of continuous sponsorship and said that he thinks that sports plays an essential role in the development of youngsters and believes that lack of mental fitness affects individual's performances. He encouraged youngsters to take advantage of the sponsorship and make the best of it while aiming to become West Indian professional cricketers. Lastly, he said that one of the main things which keeps sponsors contributing is the media's support and promotion of positive aspirations of youngsters.
GCB's Anand Sanasie on behalf of the GCB, thanked the sponsors and those in attendance, also highlighting that four years ago the GCB decided that they needed to have educated match referees, umpires and other match officials to be a part of the cricket arena in order to make cricket a success, as every coach has completed the Child Protection Course.
He added that over the past three years, the programme has progressively been getting better; and school cricket has become a vivid pathway for talented players to ascend from school to county and national cricket levels.
A good example, he said is young Sachin Singh who has been a part of the programme for the past two years and has since captained the West Indies Under-16 team on the tour of England.
Around the Web