The Guyana Cricket Board (GCB) in collaboration with the Keem Foundation, and Carib Beer Thursday launched its "Cricket Care" T20 charity match set for 5pm tomorrow at the Guyana National Stadium, Providence.
The encounter will feature a Guyana All-Star XI, led by Skipper Leon Johnson, against a Caribbean All-Star side.
The match was put together as part of the hurricane relief initiative and the proceeds will be donated to countries who were affected by the hurricane last month.
The game, which should provide a CPL-like atmosphere for the anticipated  capacity crowd, takes on an added significance since it not being played for a trophy, a cash prize or ratings, but for a noble and humanitarian cause.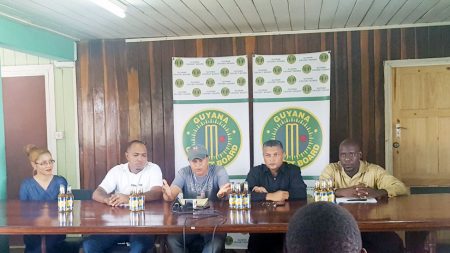 Some of the players expected to be on show include the entire Jaguars team which finished as runners-up at the recent Tri20 tournament in Antigua, along with Lendl Simmons, Dwayne Smith, Nicolas Pooran, Andre Fletcher, Reyad Emrit, Fidel Edwards, Kevin Cooper, Sulieman Benn and  Keswick Williams.
They  will all contribute  to the victims of hurricane-ravaged Dominica and St Maarten where Johnson's mother resides.
Tickets cost $1,500 for the Party Stand where local artistes Tameka Marshall, Natural Black and 'Rubber Waist' Jomo Primo are among those that will perform live while  Cheerleaders for the two teams will add to the excitement.
Any of the other three stands will cost $2,000 to enter and volunteers will be going around the ground to take donations for the worthy cause. A percentage of the gate receipts will also be donated to the Hurricane victims.
Tickets went  on sale from yesterday at Poonai's Pharmacy in Rose Hall Town, Little Rock Hotel in New Amsterdam, M&Ms on the East Bank Demerara, Saro Boy Groceries in Buxton, Nimbus Water in Vreed-in-Hoop, Big Yard Auto Sales in Tuschen and Dan's Sackett in Parika.
Those in attendance at the GCB's Boardroom on Regent Street Thursday were GCB's Honorary Secretary, Anand Sanasie; GCB's Territorial Development Officer, Colin Stuart, Feliz Robertson, representative from Keem Foundation; Nigel Worrell, representative of Ansa Mcal along with Sean Devers of Kaieteur News, acting in a public relations capacity.
Teams:
Jaguars: Leon Johnson (Captain), Robin Bacchus, Sherfane Rutherford, Jonathon Foo, Gajanand Singh, Chanderpaul Hemraj, Anthony Bramble, Kemo Paul, Romario Shepherd, Ricardo Adams
Caribbean All-Stars: Rayad Emrit (Captain), Lendl Simmons, Dwayne Smith, Andre Fletcher, Nicolas Pooran, Kjorn Ottly, Kevin Cooper, Keswick Williams, Jevon Searles, Fidel Edwards, Suleiman Benn, Lennox Cush, Joshua Wade, Andre Stoll, Romaine Maniram.
Around the Web