West Ruimveldt, Stella Maris, Marian Academy and Sophia reached the quarterfinals of the seventh annual Court's Pee Wee Primary Schools Football Championships following round of 16 matches yesterday.
At the Thirst Park ground, West Ruimveldt whipped Den Amstel 7-1 with  Eon Daniels scoring a helmet trick in the third, 15th, 16th and 19th minute while Seon Sampson bagged a double in the 21st and 39th and Jonathan Andries scored in the 31st minute.
Keshawn Humphrey scored Den Amstel's lone goal in the 24th minute. In another fixture Sophia humbled Tucville 4-0 Bernard King netting a hat-trick in the eighth, 15th and 35th minute while David Weekes added in the 29th minute.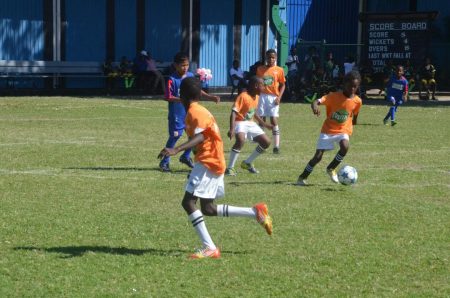 Meanwhile, Stella Maris edged South Ruimveldt 2-1. Fidel Norville bagged a brace in the 27th and 32nd minute while Neshawn Bristol scored for Stella Maris in the 19th minute.
In other results Marian Academy edged F.E. Pollard 1-0 through a Chad Henry strike in the 44th minute; Redeemer edged Parfait Harmonie 2-1; St. Agnes downed Goed Fortuin 2-0 and School of the Nations edged Mae's 3-2 on penalty kicks, after normal and extra time ended 2-2.
In the final matchup, Enterprise whipped St. Ambrose 3-0. Action continues on the Saturday with the quarterfinal round at the same venue.
Complete Results
Game-1
Parfait Harmonie-1 vs Redeemer-2
Redeemer Scorers
Kevin George-27th
Miguel Alexander-37th
Parfait Scorer
Joshua Daniels-33rd
Game-2
Den Amstel-1 vs West Ruimveldt-7
West Scorers
Eon Daniels-3rd, 15th, 16th and 19th
Seon Sampson-21st and 39th
Jonathan Andries-31st
Den Amstel Scorer
Keshawn Humphrey-24th
Game-3
St. Agnes-2 vs Goed Fortuin-0
Darrius Chester-12th
Justin Alcindor-17th
Game-4
School of the Nation's-2 vs Mae's-2
School of the Nations won 3-2 on penalty kicks
School of the Nation's Scorers
Ewart John-27th
Timothy Brathwaite-40th
Mae's Scorers
Michel Mason-9th and 26th
Game-5
South Ruimveldt-1 vs Stella Maris-2
Stella Maris Scorer
Fidel Norville-27th and 32nd
South Ruimveldt Scorer
Neshawn Bristol-19th
Game-6
F.E. Pollard-0 vs Marian Academy-1
Chad Henry-44th
Game-7
Enterprise-3 vs St. Ambrose-0
Shamar Richardson-18th and 37th
Mark Eastman-25th
Game-8
Sophia-4 vs Tucville-0
Leonard King-8th, 15th and 35th
David Weekes-29th
Around the Web