In an extraordinary display of speed, power and stamina, Team Foundation's Geron Williams almost rode wire-to-wire, emerging winner of yesterday's sixth annual Digicel Cancer Awareness road race in a thrilling sprint finish.
Williams, who trailed for just about seven laps in the gruelling but lucrative 70-mile fixture (30 laps) which was staged around the outer circuit of the National Park, won the event in two hours, 54 minutes and 19 seconds.
A testament to his class and dominance on the saddle on the steamy Sunday afternoon, the 26-year also carted off three of the five sprint prizes during the flagship event which attracted in excess of 80 casual and semi-professional bikers.
Williams, who campaigns mostly on the United States of America circuit, led breakaway mates, Curtis Dey and Jornell Yearwood onto the podium while Andrew Hicks, Mark Harris and inaugural winner, Paul DeNobrega completed the top six positions.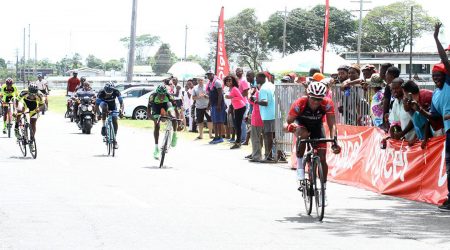 From the third lap, Dey, Yearwood and Harris created separation from the rest of the peloton.
Williams along with Hicks, Ambrose and DeNobrega then rode in pursuit and soon caught up with the trio during lap seven. The seven-strong riders then rode in a businesslike manner and eventually lapped the field which was playing 'cat and mouse' behind.
With the fans lined on Irving Street outside the Guyana Defence Force (GDF) compound cheering them on, the leaders soldiered on in tandem and continued to stretch their advantage.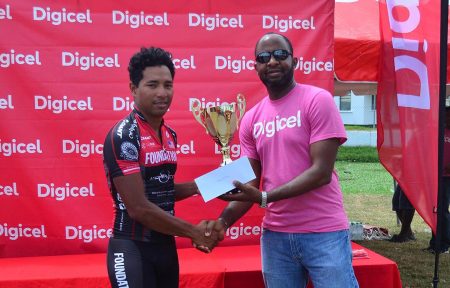 As expected, however, teamwork was disregarded with the finish in sight and the spoils on the line.
With 150m to go, the leaders rose from their saddles and a fierce sprint battle ensued.
Many thought that Dey, who had the younger and fresher legs, would steal the show but the tireless Williams, who did the bulk of the pacing during the event, gritted his teeth, kept his momentum and took the top spot by about three bike lengths.
In a post-race interview, Williams dedicated his win to cancer sufferers and survivors and a close relative, Barbara Legal, who lost her fight to Breast Cancer a few years ago.
He then stated that he hopes to ride his late-season form into the 2018 season.
Other category winners yesterday included Dey (junior), Junior Niles (veteran u-45), Ian Jackson (veteran 0-45) and Hazina Barrett (female).
Following the race, representatives of Digicel doubled the proceeds of the registration and donated it (almost half a million dollars) to the Cancer Institute of Guyana.
Around the Web