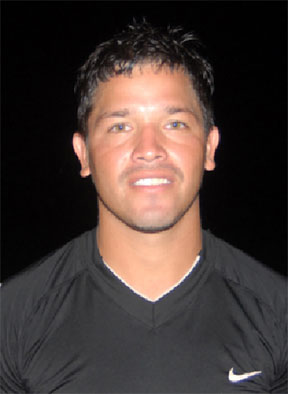 With just about five weeks to go before the start of the Rugby America's North (RAN) 7s Championship in Mexico City, special emphasis has been placed on improving the fitness and speed of the 'Green Machine'.
According to Captain of the national team, Ryan Gonsalves, these are the keys to succeeding at the two-day fixture scheduled for November 25 and 26.
"I think we have steps to take in terms of our fitness for what we would need in the Mexican conditions but at the same time we are no strangers to the conditions there," said Gonsalves yesterday.
Gonsalves noted that the seven-time overall champions of the tournament  "Know what it takes and we know we have to adapt, so we will be using the next five weeks to see how fit we can get so we can last the two days."
He then lauded the efforts of fitness coaches, Barrington Browne, Oslyn Oliviera along with Head Coach, Laurie Adonis who have been working in unison to push the ruggers to their limits.
The national skipper admitted that he feels the team is a scratch behind but "As players, we are just trying to put the extra effort in to try our best to get to game fitness that we should be at for Mexico."
Ten men's teams and seven women's teams will compete in the two-day tournament.
Guyana has been placed in Pool A along with Barbados and the Cayman Islands. Pool B consists of Jamaica, Bermuda and the Dominican Republic. A tough Pool C will see Trinidad and Tobago, the host, British Virgin Islands and ruggers from Curacao locking horns.
The men's competition on the first day will be a pool round robin, with seedings based on the 2016 standings. On day one the top two teams in each pool go through to play off in two further pools and the remaining four teams will play off in a separate round robin tournament as follows:
Cup Round Robin Phase (2 matches each per team)
Pool 1 Pool 2
1st Pool A 1st Pool B
2nd Pool C 1st Pool C
2nd Pool B 2nd Pool A
Final: Winner Pool 1 v Winner Pool 2
3rd / 4th Match: Runner up Pool 1 v Runner up Pool 2
5th / 6th Match: 3rd Pool 1 v 3rd Pool 2
Plate Round Robin Tournament:
3rd Pool A, 3rd Pool B, 3rd Pool C and 4th Pool C
The above format allows for six teams after day one to be in contention to win the tournament and qualify for CASCO Games 2018.
On the women's side, a round robin tournament over two days will take place, where every team will play each other (three matches each day per team) and final positions will be based on final standings in the group. Women's teams include Jamaica, Mexico, Trinidad & Tobago, Guyana, Bermuda, Dominican Republic and French Guyana.
All matches will be streamed live and fans can follow the action on social media using the hashtag #RAN7s.
Around the Web