Guyana's Priyanna Ramdhani has been selected by the Pan American Badminton Federation (PABF) Development to participate in the Young Talents Camp in Paramaribo, Suriname from November 9-15.
According to a press release, the 15-year-old Ramdhani gained selection following her performance at the recent South American Youth Games in Santiago, Chile where she reached the quarter finals of the girl's singles.
Her performance in Chile saw her becoming the number four ranked female junior badminton player in South America.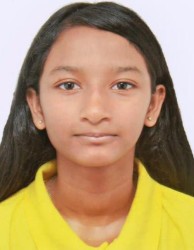 In August, Ramdhani won two gold and one silver medal at the Caribbean Badminton Championships (CAREBACO) in Trinidad where some 14 countries participated.
The Young Talents Camp will entail sessions twice daily under the direction of the Pan American Programme's coach, the release stated.
At the conclusion of the camp, Ramdhani will participate in the Suriname International Open badminton championships which runs from November 15-18 at the Ismay Van Wilgen Sporthal.
According to Ramdhani's father and coach, former national badminton player Gokarn Ramdhani, Priyanna's goal is to start building her World Ranking points to help her qualify and attend future tournaments internationally.
Around the Web