Amid much anticipation, the playoff round for the 2017 edition of the Guinness 'Greatest of the Streets' Georgetown Zone, is slated to commence November Saturday 11th.
The playoff rounds will take place following a registration period that officially starts today and closes on Wednesday November 8th.
According to the coordinators, forms can be uplifted at the Caesars Place Banks DIH Limited, D'Urban Street location or from Referee Coordinator, Wayne Griffith, 697-7777.
The coordinators revealed, "It is a new and colourful era in the Guinness 'Greatest of the Streets' Championship, which is expected to be exciting and evenly contested in every zone."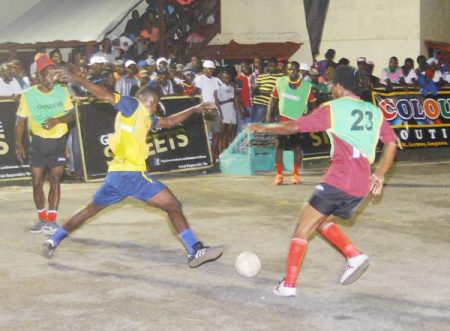 They further disclosed, "The tournament is going through several changes which will positively impact the overall quality. Colourful uniforms, displays and balls will be utilized to give the event vibrancy, which will certainly add to the atmosphere."
With 16 teams receiving automatic berths to the group stage, the initial elimination tournament will be utilized to select the other 16 teams which will complete the final 32 for the round-robin stage.
The venues for the championship are Demerara Park, National Cultural Centre Tarmac, Burnham Basketball Court, Albouystown Tarmac and the East Ruimveldt Tarmac [California Square].
The official playing dates are November 22nd, 23rd, 25th, 30th, December 2nd, 7th, 9th, 14th, with the grand finale is slated for Saturday 16th.
Winner of the overall event will walk-away with $500,000:, the championship trophy and will represent the region in the National Playoffs.
On the other hand, the runner-up will pocket $250,000 and the respective accolade.
Meanwhile, the third and fourth place finishers for the event will collect $200,000 and $100,000, respectively, and the corresponding trophy.
Around the Web