At just age 19, Keemo Paul is embracing the tag of being a genuine all-rounder and is shouldering the responsibility quite well.
His short career continues to blossom and he received another tick on his already impressive resume after an impressive performance in the Guyana Jaguars opening triumph over the Jamaican Scorpions in the Cricket West Indies regional four-day league where he registered his maiden first-class century and returned with the ball to complement the spinners quite well with his steady line and occasional sideways movement.
The slimly-built player belted four sixes and 12 fours en route to his century and required just 34 deliveries to move from 50 to 100.
Paul, in describing his emotions after his heroics, expressed satisfaction with his performance and declared his desire to remain consistent for the balance of the tournament. 
His immediate aims, he declared, are cementing his place in the side while eying a West Indies call up further afield.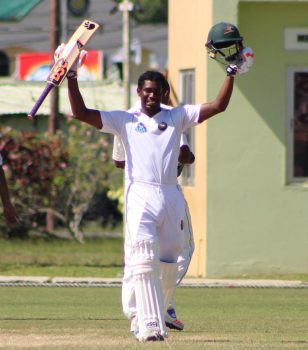 "Well, you know obviously it's a great feeling to go out there a score [my] first hundred for Guyana. It's a special feeling and I must give God thanks and praise for that," the youngster declared.
"I just want to build from that, be consistent and hopefully get more runs and just go on to cement my position in the team," he added.
Delving further into his innings, Paul, who went to the luncheon interval on 32 on the third morning and unleashed a barrage of savage shots to record first his fifty and thereafter his century in quick time, indicated that he "just trusted his natural instinct" to be aggressive, knowing that a declaration was around the corner.
In expressing his desire for more success, he underscored the main ingredient required for such, which according to him, is consistency.
"I just want to be consistent," he emphasized. "I don't just want to score one century here and then go back to making low scores, I just want to be consistent, get a good average and hopefully move on from there because I want to make the [West Indies] 'A' team some time and I'm working towards that," he added.
Paul, who hails from the island of Wakenaam, quickly caught the eye after being one of the main authors of the West Indies Under – 19 team storybook triumph in claiming the ICC Youth World Cup in 2016 for the first time in the region's history.  He subsequently made his first-class debut for Guyana earlier this year in the 2016/2017 regional four – day tournament against Trinidad and Tobago.
His numbers after just four first-class appearances are impressive and he would go on to make more than just the West Indies 'A' side if he manages to churn out more match-winning performances like he did a few days ago. After six innings, he has managed to score 248 runs with an average of just under 50, his best being the 107 he score against the Scorpions on Saturday.
Paul, with the ball in hand, has captured 14 wickets nine of which came in the penultimate match, last season against the Windward Islands, when he bowled the Jaguars to their third consecutive title with a game in hand.
He is certainly a talent to keep an eye on with one of his main attributes being his willingness to take on tough situations, exhibiting the clutch-like demeanour, a hallmark of most great athletes.
Around the Web