The Guyana Football Federation last Sunday successfully completed a two day training workshop for Technical Instructors and Referee Development Officers at the Ministry of Education's Music School, Brickdam.
The aim of the workshop was to enhance and develop the skills of prospective Referee Instructors and Assessors. This was done through the utilization of updated information garnered following attendance at a recent FUTURO III course in Jamaica.
In attendance at the conclusion of the event were GFF President, Wayne Forde, GFF Head of Refereeing Department, Stanley Lancaster and Member Association (MA) Instructors, Ingram Johnson and Roy Mc Arthur.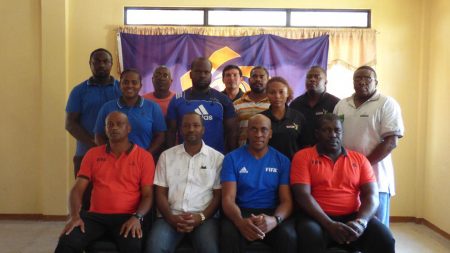 Johnson said, "This workshop is necessary so that the development of football can be enhanced in our Member Associations. From the referees' point of view in dealing with the modern game, the referees have to be up to speed with all the laws and necessary information to manage the game in accordance with the laws of the game. As an Instructor, I was mandated in Jamaica to develop referees to the extent of making sure there is a refereeing team that attends or participates in the World Cup in 2022 in Qatar. So my intention is to try our utmost to instill as much as possible and to guide the referees in order to achieve that particular goal."
Lancaster said: "Ingram, who has recently returned from Jamaica, will be enlightening our Instructors on the new amendments and interpretations of the laws of the game and they in turn, just like our previous Fitness Instructor Workshop, will in turn teach the Referees. The prime objective of this workshop is for the MA Instructor to teach the teachers, who are the RDOs/Instructors, who will in turn teach the Referees.
Once we would have completed both Technical and Fitness Instructors workshops, we will be targeting the Elite Referees in an upgraded course.
We're projecting to have this done before the start of the Elite League after which we'll have a national recruitment drive to double or triple the number of officials we currently have."
Around the Web