Guyana's junior lawn tennis team created history by winning the Guyana of the Guianas (formerly the Inter-Guiana Games) tournament, turning the tables on arch rivals Suriname and French Guiana in the annual competition.
According to a press release from the Guyana Tennis Association (GTA), the win was a decisive one for the Guyanese team who played with passion and a high degree of discipline to finally win the international competition for the first time in over 10 years.
The tournament attracted top junior players from Guyana, Suriname and French Guiana who competed in the Under 12, Under 14 and Under 18 categories.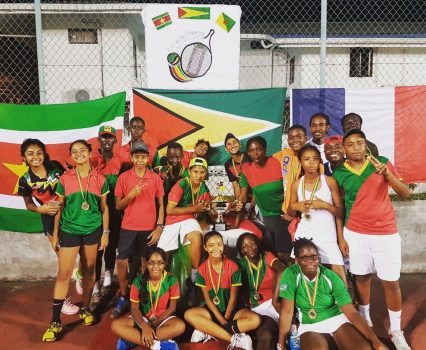 A total of 56 matches were played over three days that included singles and doubles matches at the GBTI Recreational Centre and the Harry Panday court and the Guyana team copped an unprecedented five gold medals and one silver from the six categories.
Suriname was second with five silver and one bronze medal while French Guiana ended in the cellar with one gold and five bronze medals, the release stated.
Outstanding for Guyana were Jeremiah Kalekyezi and Vadeanand Resaul who won all six of their matches in the Under 14 category while Afruica Gentle and Kalyca Fraser also won all their matches in the Girls 18 division.
The outstanding players for French Guiana were Sael Geer and Julien Gaillot in the under 18 boys and for  Suriname, the Under 14 boys Yannick Issa and Shane Hermelijin secured the most wins.
According to the release, the Guyana team benefited immensely from being able to train at the Guyana Bank for Trade and Industry (GBTI) Tennis Courts over the last two months and was a well-oiled unit.
Special credit must go to coaches Shelly Ramdyhan and Leyland Leacock and all the other tennis coaches who assisted in their preparation.
The Guyana Tennis Association, sponsors, parents and friends of tennis were also instrumental in making the achievement possible through hard work and dedication.
Home court advantage brought additional excitement to the Guyanese team as vocal supporters were able to egg on the players to higher levels and win some very competitive matches, the release ended.
Sponsors for the event included Demerara Distillers Limited, Desinco, Star Party Rental, Massay, De Sinco, Guyana Olympic Association, National Sports Commission, Assuria, Banks DIH, Mae's Schools, GBTI and RKV Persaud Land Surveying Services, Sheltez Tennis Club, Harry Panday, Roraima Tennis Club, Non-Pariel Tennis Club and Le Ressouvenir Tennis Club. The next Cup of the Guianas tournament will be held in Suriname in 2018.
Around the Web