BRIDGETOWN, Barbados, CMC – Captain Denesh Ramdin expects Trinidad and Tobago Red Force's strong showing in their opening match against Barbados Pride to inject confidence into the young squad but said improvement was required if they were to start winning matches.
The inexperienced Red Force unit pushed Pride over four days in the Regional first class contest at Kensington Oval last weekend, before coming away with a favourable draw.
However, Ramdin pointed out that consistency was needed especially in the batting department, with batsmen needing to value their wickets more.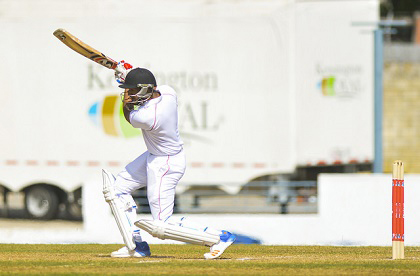 "We take a lot [of confidence]. The batsmen pout runs on the board and the bowlers were able to take wickets on a good pitch. Playing the Pride in Barbados, we would take this draw, although the last contest we had at this venue, we won," Ramdin said.
"We are happy with the result. We will go back home now, reassess and try to make the most of our home games coming up to get some victories under our belt."
He added: "[I have been] highlighting to the younger batsmen in the squad that if you get a 'start', the importance to the team and the value of being able to carry on.
"If you get a good ball from a bowler, there's not much you can do, but getting a 'start' and giving their hands away, they need to improve.
"There will be days when they may get a harsh decision or things not going your way, so it's important for them to understand that they have to make the best use of each opportunity that they are given."
Ramdin was outstanding with the bat during the game, stroking a hundred in the first innings and a half-century in the second, in his first appearance in a first class game in some while.
Top order batsman Ewart Nicholson got a half-century in each innings while Amir Jangoo and Jeremy Solozano – all novice players – also got among the runs with half-centuries.
"I am happy with the team effort. One day was lost due to rain which we would have loved to have played to see what would have been the outcome," Ramdin pointed out.
"Several of our young batsmen stood up and got 'starts', but failed to carry on. With the experience of myself batting with the middle order and lower order, we got a decent first innings total, and we have stressed the importance of putting the runs on the board during the first innings, so there will be less pressure on the bowlers."
Red Force will turn now turn their attention to Jamaica Scorions in the second round starting on Thursday, with Ramdin once again expecting Red Force to produce a positive performance at the newly built Brian Lara Stadium at Tarouba.
"We play the Scorpions at the Brian Lara Cricket Ground. It's a good surface for batsmen, so I expect it will be a high-scoring match. We expect that it will be competitive because they typically play tough and put up good fight," the out-of-favour Test wicketkeeper noted.
"We will need to reassess, and put up good totals on the board and wickets will come with our bowling, if we can bowl more in partnerships. We were a bit rusty in this first match, but we are looking to come better and harder in the second game."
Around the Web