The Meadowbrook Gardens Tarmac will serve as the battleground for the opening round of the playoffs section in the 2017 edition of the Guinness 'Greatest of the Streets' Georgetown Zone.
This information was disclosed by the coordinators of the annual championship. The event which is eagerly anticipated, is slated to kick-off November 11th at the Meadowbrook Facility with the first round of elimination matches. The registration timeline ends on Wednesday November 8th.
According to the coordinators, "The playoff matches will be staged at the Meadowbrook Gardens Tarmac and possibly also at the East Ruimveldt Community Centre which is popularly known as California Square."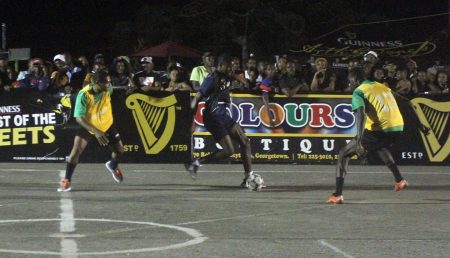 The coordinators disclosed, "The reasons for taking the games to those venues is because we wanted to go back into the communities, which is core to the success of the tournament. Meadowbrook in particular is a new village to the street football scene and in an effort to promote the sport, we want to take games to those areas. We need to diversify the tournament in order to attract new folks to the event, so taking the event to other new venues in the future is a possibility."
The coordinators further declared, "Teams have been very active in the registration period. We are on course for a record number of entrants which shows of the growing interest and appeal of the tournament."
According to the controllers of the event, forms can be uplifted at the Banks DIH Limited 'Caesars Place' Durban Street location. The registration document can also be uplifted from Referee Coordinator Wayne Griffith on 697-7777.
With 16 teams already given automatic berths to the group round, the initial elimination tournament will be utilized to select the other 16 teams that will form the final 32 for the round-robin stage.
The confirmed venues for the main draw of the championship are Demerara Park, National Cultural Centre Tarmac, Burnham Basketball Court, Albouystown Tarmac and the East Ruimveldt Tarmac.
The official playing dates are November 22nd, 23rd, 25th, 30th, December 2nd, 7th, 9th, 14th, with the grand finale slated for Saturday 16th.
Winner of the overall event will walk-away with $500,000 and the championship trophy. They will also represent the region in the National Playoffs.
On the other hand, the runner-up will pocket $250,000 and the respective accolade. Meanwhile, the third and fourth place finishers for the event will collect $200,000 and $100,000 respectively and the corresponding trophy.
Around the Web