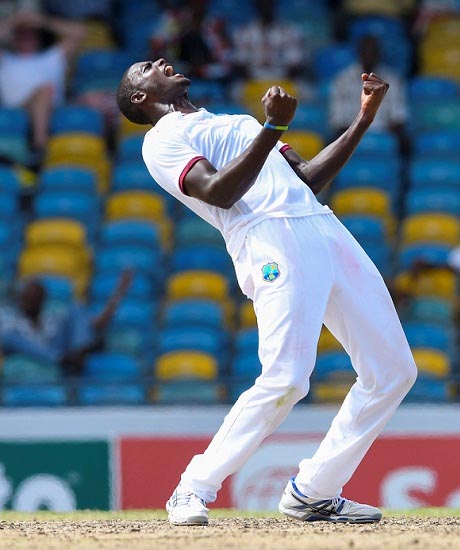 BRIDGETOWN, Barbados, CMC – Jason Holder stumbled across success earlier than most.
He gathered his maiden Test hundred in only his fourth match and had been entrusted with the one-day captaincy by age 23, and with just 21 ODIs behind him. Just months later and two shy of his 24th birthday, Holder was handed the cherished mantle of the Test captaincy, with just eight Tests under his belt.
And while one would have understood the temptation to chase personal glory, the giant, yet mild-mannered all-rounder has preoccupied himself with the concept of team, and the role of his abilities in the overall collective.
He is almost philosophical as he articulates his role as a young captain and his expectations of the teams he leads, and deliberately never disconnects his performances from that of his unit.
Holder turns 26 today and after 28 Tests, just over 1200 runs and a shade over 50 wickets, says he has found his footing in international cricket and now struck the right blend between leadership and player.
"When Clive Lloyd was chairman [of selectors], he told me it takes three years to understand Test cricket and I felt it strange at that time to understand it, but as I've played a lot more Test cricket, I've seen so many different things that it's clear to me that it probably would take you three, maybe four years to get attuned to actual Test cricket and the Test arena," the unassuming Holder told CMC Sports in a wide-ranging interview prior to the start of the recent Zimbabwe series.
"It was very difficult at the beginning finding a routine and things that work. I've done a fair bit of trial and error in terms of decision-making and ways I would like to push things down to the guys.
"I think I am managing it a lot better now and that's with the help of the guys because they have been so receptive and open to things I've brought."
And what he has brought has been a more disciplined approach in work ethic and an almost scholarly awareness of what team success comprises. He speaks about "the process" with a sense of religious fervour and the role of personal responsibility in team performance.
It should not be surprising then, that West Indies, despite their lowly international ranking and  recent struggles, have shown glimpses of becoming the type of quality side the Caribbean has craved since the halcyon days decades ago.
Holder's first Test in charge was a chastening experience, an innings defeat to Sri Lanka in Galle and he subsequently went 11 matches without a win.
However, he oversaw his first success when the Windies produced a magnificent effort to beat Pakistan by five wickets in the third and final Test in Sharjah last year October. The victory was their first in 19 months and the first on foreign soil in four years, and significantly, the first away win over a higher ranked side in almost 10 years.
West Indies have since won a Test in every series following, beating Pakistan in Bridgetown last May in the return Home Series before stunning England at Headingley in August – the Caribbean side's first Test win on English soil in 17 years.
That a young side with an average age of 26 and without a single player with 50 Tests could be making small but purposeful strides, is no accident. According to Holder, this success has come from a relentless focus on the process instead of the end result.
In addition, he said the current group of players, though relatively inexperienced, represented a special breed who had West Indies cricket at heart.
"There's no point sitting down thinking about results. You've got to do so many things in order to get a result and that's the process," he explained.
"And I just like to dial in on the process – what is required of each individual in order for us to get the team goals achieved – and everybody needs to understand their role and go out there and execute their role. I think that makes the job a lot easier."
He added: "I must say the Test team is probably easier to manage where everybody is pushing towards the same goals. It's not to say that's not the same in the one-day team but this Test team I believe brings a new kind of feeling towards West Indies cricket, in my opinion.
"There's a great sense of something to look forward to and I can feel it within the group, and I don't think we're that far off from clicking it. We've been together for a little while now so hopefully going forward, if we can stay together a lot longer, we can do some special things on the field."
Despite the heavy responsibility of captaincy, Holder has also recognised the need for personal development and has quietly gone about his business, carving out a niche as a genuine all-rounder.
His unbeaten 103 in Antigua two years ago came under tough circumstances on the final day of the opening Test, helping West Indies to a tense draw. He has gone on to add five half-centuries and now has six overall, and his 110 against Zimbabwe in the second Test in Bulawayo last week, was further proof of his immense ability with the bat.
While he averages 30 at the crease, his 52 wickets have come at 37 apiece, and with a single five-wicket haul to his name, Holder is anxious to correct this record. However, he again stressed that team goals remained paramount, noting he was comfortable playing the role required by the team as situations dictated.
"It's been a while since I scored a Test hundred and I would really love to end off the year at least scoring one. It's difficult to bat at number eight and get one but I don't think it is impossible," he pointed out prior to scoring his second hundred.
"But I just try to bat situation, I don't really get too caught up with personal goals because you never know what situation you will be faced with in a game and I am a big believer in playing for the team.
"As captain, that is something I really want to push down to the other guys in the group so I don't really get too caught up in personal glory. I just try to to do what is required for the team and if the team requires me to go out there and dig in, I dig in.
"If it's a chance for me to express myself, I try to express myself depending on which role I have in terms of the bowling. At the end of the day, I would really love to have a Test century at the end of the year and at least another five-wicket haul as well."
The Barbadian is driven not simply by performance but by a sense of mission. And with his responsibilities spawning both the Test and one-day formats, he is acutely aware that his fitness is key to the targets he has set.
Though the heavy workload associated with a busy international schedule has taken its toll, Holder said the sense of commitment to team has continued to drive him onto the field, regardless of small injuries from time to time.
"During tours you can get a bit of topping up done but there's not much time to actually put your fitness together so I just try to make sure I'm ready for the next day," he noted.
"I've been battling through some niggling injuries as well but nothing to keep me off the park. I just try to cross the [boundary] line every time and when I cross the line, I make sure I'm able to give a hundred per cent."
Around the Web