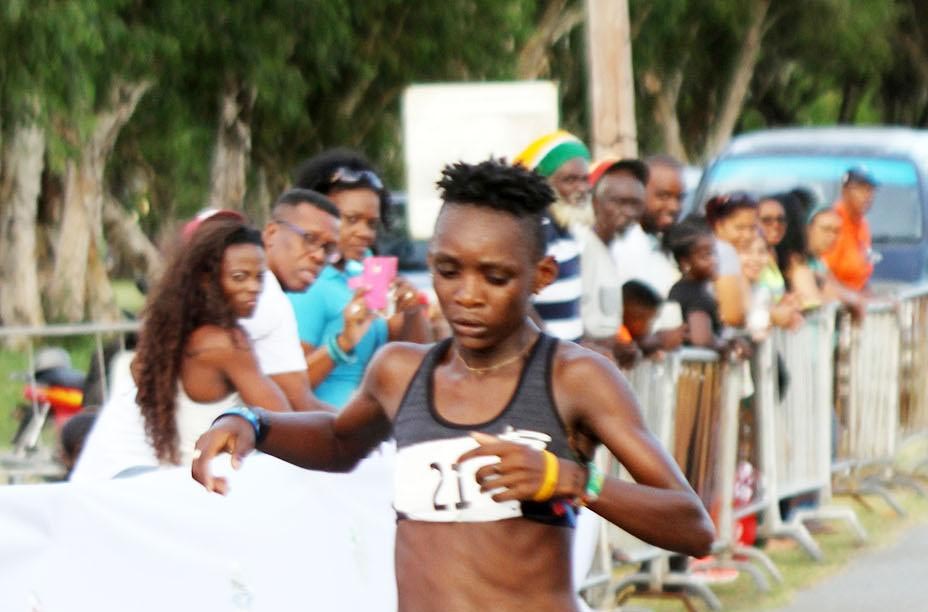 Oops! They did it again. Cleveland Forde, Cleveland Thomas and Winston Missigher's dream run continued yesterday in the second leg of the South American 10k Classic as they swept the podium a week after pulling off the same feat on the streets of Paramaribo, Suriname.
There was a feeling of deja vu since the three standout athletes placed in the exact order after putting on a clinic of team running against the visitors namely defending champion, Curtis Cox (34m:18s) of Trinidad who placed fourth and fifth place finisher, Junior Ashton (35m:53s) of St Vincent and the Grenadines.
The only notable difference the three Guyanese athletes experienced on the banner day of racing was the faster time the race was completed in at the National Park.
Forde, 32, completed the trek which ran off from Carifesta Avenue (in front of GTT), proceeded to the University of Guyana and returned to the National Park for the conclusion in an official time of 33m:42s. He ran 23 seconds faster than in Suriname.
He pulled away late from the local duo Thomas and Missigher, with a little more than a mile to go. Thomas was second in a time of 33m:51s while Missigher crossed the finish line in 34m:05s.
St Vincent's Linda McDowall pretty much ran the entire event in solo fashion. After the first km, she was by herself with the race in hand.
In perfect conditions for distance running, McDowall, 23, clocked a brisk 39 minutes and 50 seconds to finish way ahead of Grenada's Kenisha Pascal (40m: 44s) and Guyana's own Maria Urquhart (44m: 20s). Local duo, Sheama Tyrell (44m: 28s) and Ashanti Scott (46m: 08s) filled out the top five positions.
Forde and McDowall went home richer by US$1000 apiece while the second placed runners received US$600 and the third spot fetched US$400. For their efforts, McDowall and Forde also pocketed real gold medals.
The third and final leg of the Region's most prolific annual 10k series will be staged Sunday in Panama.
Around the Web