Pele clinched their first win in the Georgetown Football Association (GFA) 2017/2018 Senior League edging home side Georgetown Football Club (GFC) 1-0 Sunday.
Emerging talent Keith DaSilva relegated the home side to their second consecutive loss in the event, compliments of a 40th minute conversion.
The victory, which was witnessed by a sizable crowd, occurred after DaSilva clinically slotted into the back of the net from a cross inside the centre of the penalty box.
GFC almost equalized in the 86th minute but  the headed attempt following a left side corner-kick, crashed into the crossbar.
Meanwhile, Santos defeated Camptown 2-1, while Northern Rangers squeaked past Flamingo 1-0. The event continues on Friday at the same venue, with another doubleheader.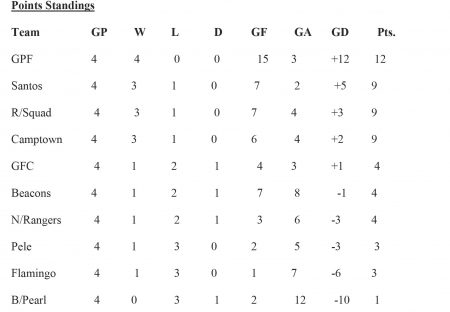 Complete Results
Game-1
Santos-2 vs Camptown-1
Santos Scorers
William Europe-67th
Keith Caines-85th
Camptown Scorer
Jamal Codrington-77th
Red Card
Kevin Frank-80th-Camptown
Game-2
Flamingo-0 vs Northern Rangers-1
Sherwin Vincent-51st
Game-3
Pele-1 vs GFC-0
Keith DaSilva-40th
Around the Web