Organizers of the 'Race of Champions' Horse Race meet are expecting a record breaking day on the track when the event is staged on December 3 at the Rising Sun Turf Club.
According to a release, the feature 1200m event is expected to be the fastest in Guyana's history on the well prepared track. The newly imported, Guyana Cup and President Cup Champion, Vera's Finally from the Jumbo Jet Racing Stable is set to go the 1200m distance for the first time in her racing career.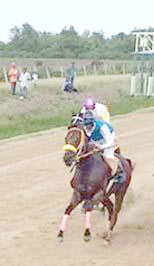 The filly has the track record for the fastest time going the distance of a mile at the venue while Storm Bird of the Inshan Bacchus Stable has the fastest 1000m recorded at Rising Sun. They are on a collision course. Both champion race horses are trained by Faizal Habibulla and ridden by Colin Ross.
Bacchus said he hopes that Vera's engine is well serviced because he is expecting Storm Bird's wings to extend even bigger at the Race Of Champions. Habibulla said he had no comments as yet since both horses are capable of winning. Two horses, two owners, one trainer, one jockey. Who will Ross saddle? Who will be trainer's favorite?
Come see how the events unfold on race day.
Around the Web