Elite League champion the Guyana Defence Force (GDF), will oppose Fruta Conquerors today in the final of the Guyana Football Federation (GFF) 'Big Four Championship' following semifinal wins on Friday.
The army unit overcame Buxton United 2-0 at the National Track and Field Centre, Leonora.
Delroy Fraser opened the scoring in the 11th minute in front of a small crowd, converting from the penalty mark, following an infraction inside the penalty area.
The margin of victory was sealed eight minutes later compliments of an own goal, as the Buxton United custodian inadvertently parried the ball into the back of the net, following a cross into the area.
Meanwhile, Fruta Conquerors, led by a second half blitz in the final 18 minutes, downed Victoria Kings 5-1 in the opening clash.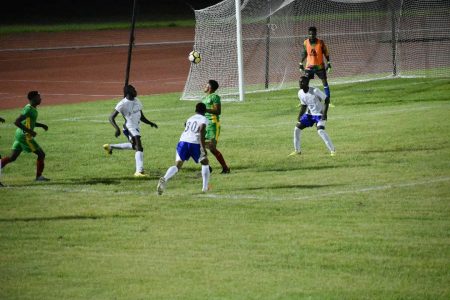 The Tucville outfit were made to work by the East Coast Demerara side, despite an early goal from national winger Eon Alleyne in the sixth minute.
However, Victoria Kings eventually cracked under the immense attacking pressure of the Georgetown unit, surrendering a further four goals.
Veteran marksman Anthony Abrams commenced the rout with a 72nd minute strike before Alleyne made it 2-0, as he found the back of the net six minutes later.
Abrams continued his goal-scoring form, etching his name on the scorer's sheet in the 82nd minute to complete a deserved double.
The score then ballooned to 5-0 in the 84th minute when Alleyne completed his hat-trick.
Recording a consolation goal in the 90th+2 minute was Nigerian import Kenneth Opara. The two losers will now face-off at 18:30hrs in the third place playoff.
Winner of the event will receive $1,500,000 and the championship trophy, while the loser will pocket $700,000 and the respective accolade.
The third and fourth placed unit will receive $500,000 and $300,000 respectively and a trophy. The tournament comprised of the two four finishers in the Elite League second season.
Complete Results
Game-1
\Fruta Conquerors-5 vs Victoria Kings-1
Fruta Scorers
Eon Alleyne-6th, 78th and 84th
Anthony Abrams-72nd and 82nd
Kings Scorer
Kenneth Opara-90th+2
Game-2
GDF-2 vs Buxton United-0
Delroy Fraser-11th
Own Goal-19th
Around the Web