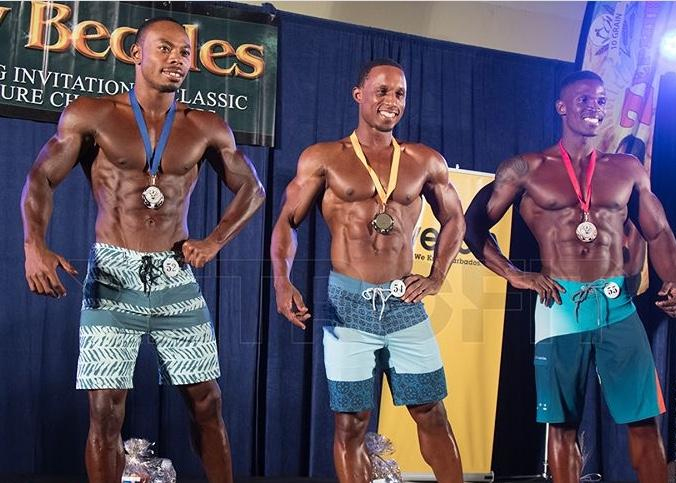 Men's Physique athletes, Emmerson Campbell and Caerus Cipriani did Guyana proud by adding hardware to their collection on Saturday night in their respective classes at the Darcy Beckles Bodybuilding and Fitness Championships which was staged in Barbados.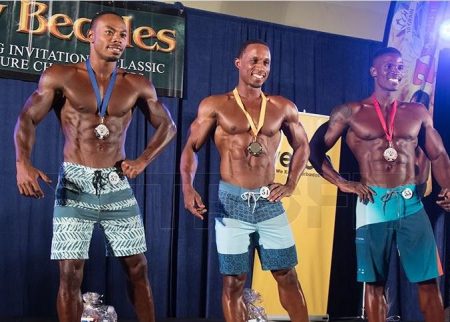 In rather controversial decisions, Campbell (short class) and Cipriani (tall class) placed second behind hometown athletes, Hadley Hoyte and Alex Ifill.
Despite falling short of the top podium spot, the two athletes were favored by the crowd that occupied the Lloyd Erskine Sandiford Centre in St. Michael.
Also representing Guyana were bodybuilders, Eybo Orford, Chaitram Nagessar, Tremel King, Alisha Fortune (Body Fitness) and Yannick Grimes (Men's Physique).
Grimes who won the national physique title just three months ago, could not replicate a winning performance and could only muster a fifth place finish on the score make the first call out.
The 10th annual event was graced with the presence of seven-time Mr. Olympia, Phil 'The Gift' Heath. Heath guest posed and gave an inspirational speech just before the end of the night's programme.
Comments

The inaugural Magnum 'Tek Charge and Win', Futsal Christmas Classic was officially launched yesterday at the Windjammer International Hotel and Cuisine, Queen Street, Kitty.

TAROUBA, Trinidad, CMC – Guyana Jaguars captain Leon Johnson hit a sparkling, fifth first-class hundred to put the current leaders and reigning three-time champions into the early ascendancy against Trinidad & Tobago Red Force in the Regional 4-Day Championship on Thursday.

If you are a fan of chiseled physiques, then the place to be this evening is the Theatre Guild in Parade Street, Kingston.

Turfites get ready, the 'Sport of Kings' returns to the Alness Turf Club tomorrow for a grand one-day meeting.
The Playoff Round of the Guyana Amateur Basketball Federation (GABF) 2017 'Road to Mecca' tournament bounces off today at the Cliff Anderson Sports Hall, Homestretch Avenue.