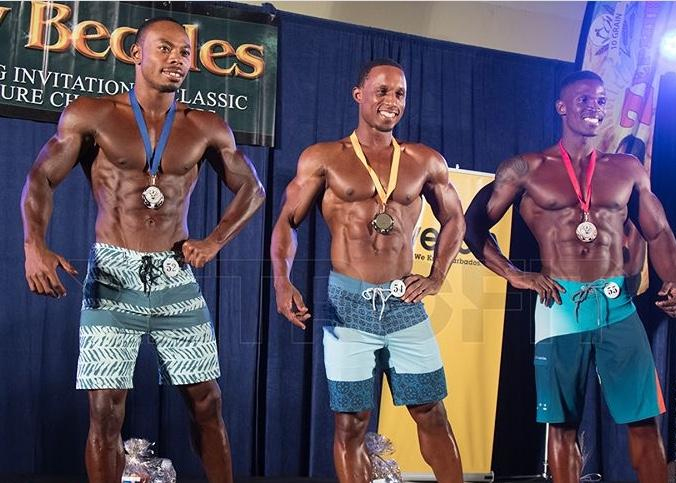 Men's Physique athletes, Emmerson Campbell and Caerus Cipriani did Guyana proud by adding hardware to their collection on Saturday night in their respective classes at the Darcy Beckles Bodybuilding and Fitness Championships which was staged in Barbados.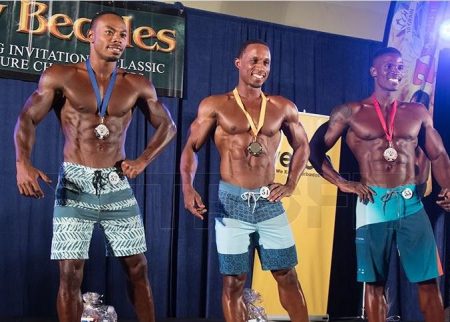 In rather controversial decisions, Campbell (short class) and Cipriani (tall class) placed second behind hometown athletes, Hadley Hoyte and Alex Ifill.
Despite falling short of the top podium spot, the two athletes were favored by the crowd that occupied the Lloyd Erskine Sandiford Centre in St. Michael.
Also representing Guyana were bodybuilders, Eybo Orford, Chaitram Nagessar, Tremel King, Alisha Fortune (Body Fitness) and Yannick Grimes (Men's Physique).
Grimes who won the national physique title just three months ago, could not replicate a winning performance and could only muster a fifth place finish on the score make the first call out.
The 10th annual event was graced with the presence of seven-time Mr. Olympia, Phil 'The Gift' Heath. Heath guest posed and gave an inspirational speech just before the end of the night's programme.
Comments

(Reuters) Three USA Gymnas-tics board members resigned yesterday in the wake of its former team physician sexually abusing female gymnasts, a step the organization said would support its reform efforts.

(Reuters) – The presidents of world soccer and world athletics are set to be snubbed by the International Olympic Commit-tee (IOC) next month when the body is likely to again overlook them for membership, a source told Reuters yesterday.

BRIDGETOWN, Barbados, CMC – The Vivian Richards Cricket Stadium in Antigua will host the final of the Women's Twenty20 World Cup later this year, the International Cricket Council confirmed yesterday.

By Charwayne Walker When Tagenarine Chanderpaul reached three figures against Barbados at the Kensington Oval in the ninth round of the Cricket West Indies Digicel-sponsored Regional four day championships earlier this month, the son of the legendary Shivnarine Chanderpaul had placed himself and his father on an elite fathers and sons list who had the distinct honour of scoring a century at the Regional First Class Level.

By Romario Samaroo Guyana Jaguars Head Coach, Esaun Crandon said Sunday that excellent preparation and planning were the factors mainly responsible for the Guyana Jaguars winning the just-concluded Cricket West Indies (CWI) Digicel Regional four-day competition.