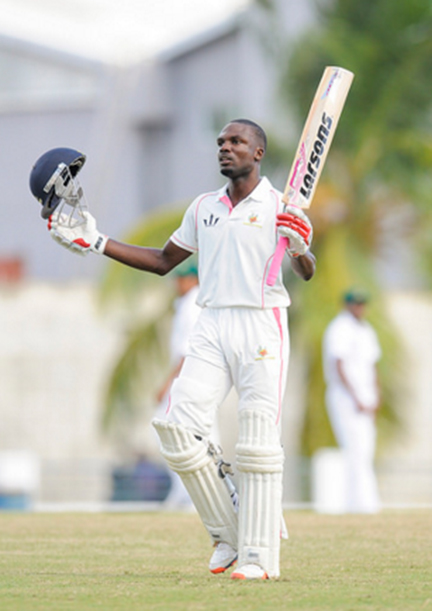 KINGSTON, Jamaica, CMC – Left-hander Jonathan Carter struck his fourth first class century but Barbados Pride's late victory surge came to nothing as Jamaica Scorpions held on to force a stalemate in their day/night third round match in the Regional Four-Day Championship here Sunday night.
Resuming the final day at Sabina Park on 112 for two in their first innings, Pride tallied 304 for seven declared, with Carter stroking 103, opener Shayne Moseley getting 50 and tail-ender Ashley Nurse, a robust, unbeaten  34.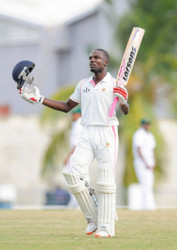 Fast bowler Derval Green led the hosts' attack with two for 59.
Behind by 128 runs, Scorpions then survived a scare in their second innings, slumping to 37 for three before recovering to end on 98 for six.
Out-of-favour West Indies left-arm spinner Jomel Warrican rocked the Scorpions innings with three for 22 but captain Paul Palmer led the revival with an unbeaten 32, which consumed 115 balls and two hours.
Earlier, Pride prospered mainly through the enterprise of Carter who anchored three key stands to get the visitors up to a challenging total.
Beginning the day on 11, the 29-year-old extended his third wicket stand with Moseley to 49, added a further 36 for the fourth wicket with Kevin Stoute (16) before putting on a valuable 53 for the sixth wicket with Justin Greaves (15).
All told, Carter faced 186 balls in 217 minutes at the crease, and counted 10 fours and a six.
When he was seventh out with the score on 257, Nurse arrived to blast a four and four sixes in a 21-ball cameo, adding a hasty 47 in an unbroken eighth wicket partnership with wicketkeeper Mario Rampersaud (10 not out) before the declaration came.
Rain allowed just 32.4 overs over the first two days of the contest.
SCOREBOARD
PRIDE 1st Innings
(overnight 112 for two)
A Alleyne b Green                                                         3
S Moseley lbw b Jacobs                                                50
*S Brooks c Green b Campbell                                     48
J Carter c Campbell b Leveridge                                  103
K Stoute c Bulli b Thomas                                            16
K Williams b Bulli                                                          1
J Greaves c Taylor b Green                                             15
A Nurse not out                                                            34
+M Rampersaud not out                                               10
Extras (lb9, w3, nb12)                                                24
TOTAL (7 wkts decl., 93.4 overs)                              304
Did not bat: S Clarke, J Warrican
Fall of wickets: 1-26, 2-94, 3-143, 4-179, 5-198, 6-251, 7-257.
Bowling: Leveridge 12-2-51-1, Thomas 12-3-51-1, Green 15-3-59-2, Jacobs 32-5-51-1, Campbell 9.4-1-36-1, Bulli 13-3-47-1.
JAMAICA 2nd Innings
J Campbell c Greaves b Warrican                                  10
G Garvey c wkp Rampersaud b Greaves                           5
A Fudadin c & b Nurse                                                10
B King c Carter b Warrican                                                  0
*P Palmer Jr not out                                                     32
+S Taylor c Alleyne b Warrican                                    12
D Bulli lbw b Stoute                                                             0
D Green not out                                                                  8
Extras (lb1)                                                                          1
TOTAL (6 wkts, 48 overs)                                           98
Fall of wickets: 1-20, 2-35, 3-37, 4-57, 5-88, 6-89.
Bowling: Nurse 17-4-40-1, Greaves 3-1-15-1, Warrican 16-9-22-3, Williams 6-1-14-0, Stoute 5-3-2-1, Carter 1-0-4-0.
Result: Match drawn.
Toss: Scorpions.
Umpires: C Wright, N Dugid.
Around the Web