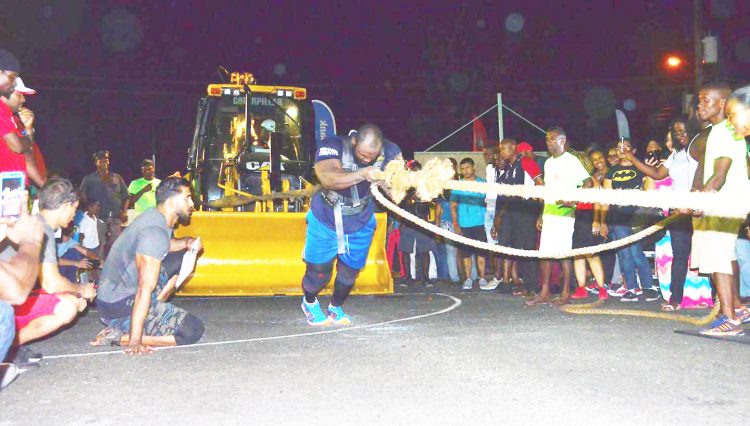 A pulsating Cross Fit style competition and the highly anticipated 'Strong Man' contest brought the curtain down on the successful two-day GTM Health and Fitness Games which concluded Sunday night at the Cliff Anderson Sports Hall.
Among the booths stacked with supplements, apparel, magazines and nutritious snacks and smoothies, there were several activities that had the venue and the streets buzzing over the weekend.
The activities on Day one were highlighted by a Zumba Party and a 5K Cancer Awareness walk which was illuminated by glow sticks.
Before Dillon Mahadeo and Semonica Duke reigned supreme as the mixed pairs RX champions in the grueling Cross-Fit like event on Day two, there was a three-point shoot out, a slam dunk contest and a squat challenge…..
To continue reading this article
Comments

The inaugural Magnum 'Tek Charge and Win', Futsal Christmas Classic was officially launched yesterday at the Windjammer International Hotel and Cuisine, Queen Street, Kitty.

TAROUBA, Trinidad, CMC – Guyana Jaguars captain Leon Johnson hit a sparkling, fifth first-class hundred to put the current leaders and reigning three-time champions into the early ascendancy against Trinidad & Tobago Red Force in the Regional 4-Day Championship on Thursday.

If you are a fan of chiseled physiques, then the place to be this evening is the Theatre Guild in Parade Street, Kingston.

Turfites get ready, the 'Sport of Kings' returns to the Alness Turf Club tomorrow for a grand one-day meeting.
The Playoff Round of the Guyana Amateur Basketball Federation (GABF) 2017 'Road to Mecca' tournament bounces off today at the Cliff Anderson Sports Hall, Homestretch Avenue.