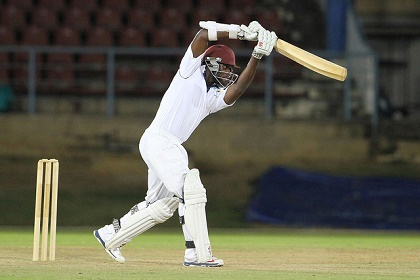 KINGSTOWN, St. Vincent, CMC – Anthony Alleyne led a strong batting parade from Barbados Pride in their Regional 4-Day Championship match against Windward Islands Volcanoes on Thursday.
The left-handed opener led the way with 82 and was one of four batsmen that plundered half-centuries to carry the Pride to 273 for five in their first innings at the close, after they were put in to bat on the first day of their fourth-round match at the Arnos Vale Sports Complex.
All-rounder Kevin Stoute was not out on 59, Kenroy Williams made 55 and left-handed opener Shayne Moseley scored 54, as none of the Pride's batsmen carried on to a hundred, but it was a solid effort and they were rewarded for their resolute batting.


Tyrone Theophile, the Volcanoes captain, was the bowling hero for his side, grabbing 3-54 from 20 overs with his uncomplicated off-spin and fellow Dominican Shane Shillingford gave stingy support, conceding just 83 from 34 overs with his clever off-spin.
Alleyne reached his half-century in the final half-hour before he and Moseley carried the Pride to lunch on 107 without loss, as they peppered the boundary with a few crisp strokes.
Moseley also reached his 50 after the interval before he was caught at slip off Theophile in the ninth over after lunch to give the Volcanoes their first scalp.
Next delivery, the struggles of Pride captain Shamarh Brooks continued, when he too, was caught at slip off Theophile for a first-ball duck.
This proved an unstable period for the Pride batting, as Jonathan Carter was caught on the second attempt by wicketkeeper Gian Benjamin off Shillingford for one in the next over before Theophile returned to have Alleyne also caught by Benjamin in the following over.
This meant the Pride slipped from 141 without loss to 144 for four in the space of 16 deliveries, but Williams came to the crease and with Stoute they averted any further implosion.
They carried the visitors to tea at 185 for four and continued merrily after the break to share 97 for the fifth wicket before Williams was caught at slip off Tarryck Gabriel's part-time spin in the final hour, leaving Justin Greaves to bat through the remainder of the day with his club-mate Stoute.
Both sides made one change to their line-ups: Pride replaced Shakeem Clarke, son of late Barbados and West Indies fast bowler Sylvester Clarke, with fellow fast bowler Keon Harding, and Roland Cato replaced Liam Sebastien for the Volcanoes.
Pride – fourth in the standings on 23.2 points – have so far earned two batting points and Volcanoes – last on 15.6 – have so far added one bowling point.
Comments

The Berbice Cricket Board (BCB) will know which direction it is heading today as the Court ordered election of office bearers of the body is expected to take place at the New Amsterdam Town Hall from 11am.
Under the recent restructuring of the Guyana Cricket Board (GCB) female Under 19 tournament, the GCB Select A defeated a Select B  team by 15 runs in the 20-overs-a-side match at the Everest Cricket Club yesterday.

History was created on Friday when Showstoppers secured their third consecutive Guinness 'Greatest of the Streets' West Demerara/East Bank Demerara zone title humbling ESPN 3-0 at the Pouderoyen Tarmac.

At 22-years-old Sachia Vickery might not quite yet have the world at her feet but she does most certainly have her tennis future in her more than capable hands.

Masters Academy, Sir Leon Lessons and Pure Masters secured lopsided wins when the sixth annual Milo Secondary Schools football tournament continued yesterday at the Ministry of Education ground, Carifesta Avenue.