The Georgetown Cricket Association (GCA) through its Cricket Development Programme, will today hold a one-day spin-bowling and wicket-keeping clinic at the St Stanislaus College from 9.30am.
According to Mark Harper, who is the GCA Cricket Development chairman, the programme looks to develop the ability of spinners and wicket-keepers and the course content will include basic grips, actions, spinning the ball, flight, tactics and accuracy.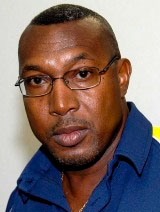 For the wicketkeepers, focus will be on glove and foot work standing up and back and stumping.
Clubs affiliated to the GCA are invited to send three spin bowlers and a wicket-keeper to today's clinic which will be conducted by former West Indies players Roger Harper and Clyde Butts and former national players Garvin `Tibbsy' Nedd and Mark Harper.
The players are required to wear whites or track pants with white tops, socks, sneakers and walk with their personal water bottles while the wicket-keepers are requested to bring their abdo guards and wicket-keeping gear including helmets.
The clinic ends at 1.30pm.
Around the Web