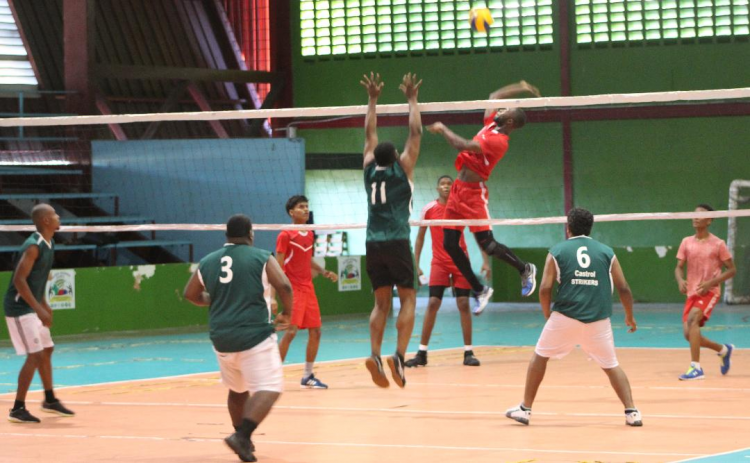 Young Achievers Volleyball club was once again the dominant force on the Demerara volleyball circuit after downing their counterparts from the Vanguard Volleyball club in straight sets in the final of the Demerara Volleyball Association (DVA) Men's 'B' division playoff played at the National Gymnasium, Sunday evening.
The duel was an interesting battle with Achievers blocking the occasional burst by Vanguard to take the final 25 – 20, 25 – 15, 25 – 19.
Both finalists had earlier earned contrasting wins with Achievers easing past Bank of Guyana in straight sets while Vanguard endured a hard-fought five-set battle against arch-rivals Castrol before eventually winning by  three sets to Castrol's two.
Achievers, through their continued dominance, carted off all but one of the individual prizes as Pooran Ethwaru, Selwyn Collier and Gungav Shivsankar copped the best setter, best receiver and best spiker awards while Ryan Munroe also of Achievers was adjudged the Most Valuable Player (MVP) of the tournament.
Daniel Benjamin, however, of Vanguard earned the best blocker award which is probably the most cherished in the sport.
The winning trophy and individual awards were sponsored by the National Sports Commission (NSC).
Comments

The Berbice Cricket Board (BCB) will know which direction it is heading today as the Court ordered election of office bearers of the body is expected to take place at the New Amsterdam Town Hall from 11am.
Under the recent restructuring of the Guyana Cricket Board (GCB) female Under 19 tournament, the GCB Select A defeated a Select B  team by 15 runs in the 20-overs-a-side match at the Everest Cricket Club yesterday.

History was created on Friday when Showstoppers secured their third consecutive Guinness 'Greatest of the Streets' West Demerara/East Bank Demerara zone title humbling ESPN 3-0 at the Pouderoyen Tarmac.

At 22-years-old Sachia Vickery might not quite yet have the world at her feet but she does most certainly have her tennis future in her more than capable hands.

Masters Academy, Sir Leon Lessons and Pure Masters secured lopsided wins when the sixth annual Milo Secondary Schools football tournament continued yesterday at the Ministry of Education ground, Carifesta Avenue.