Rescheduled from East Ruimveldt tarmac yesterday due to the persistent rainfall, the Guinness 'Greatest of the Streets' Georgetown Zone, kicks-off today at the National Cultural Centre Tarmac, Mandela Avenue with 14 matches.
According to a release from tournament coordinators, Three Peat Promotions, "The decision to reschedule the matches from the East Ruimveldt Tarmac to the National Cultural Centre tarmac was due to the heavy rain-fall which inundated the playing area and surrounding environs."
The release added, "The opening night will now witness an increase in matches from the original 10 slated fixtures. 14 games will be staged on the opening and we expect an electric atmosphere as the teams tussle for the early momentum heading into the latter stages of the tournament."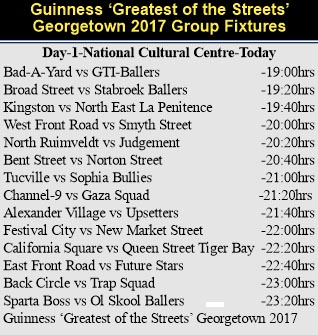 In the opening match at 19:00hrs, Bad-A-Yard will oppose GTI Ballers, while Broad Street will oppose Stabroek Ballers at 19:20hrs and Kingston battles North East La Penitence from 19:40hrs.
At 20:00hrs, West Front Road will battle Smyth Street, while North Ruimveldt tackles Judgement Yard at 20:20hrs, Bent Street engages Norton Street from 20:40hrs and Tucville faceoff with Sophia Bullies at 21:00hrs.
In the eight fixture from 21:20hrs, Channel-9 Warriors will match skills with Gaza Squad, while Alexander Village lock horns with Upsetters at 21:40hrs and Festival City battles New Market Street from 22:00hrs.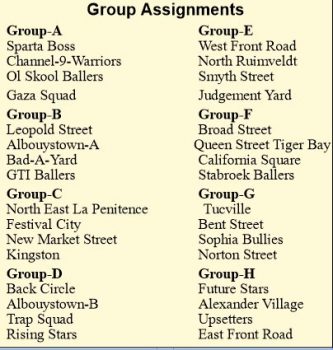 In the final four fixtures, California Square battles Queen Street Tiger Bay at 22:20hrs, East Front Road opposes Future Stars at 22:40hrs, Back Circle tackles Trap Squad from 23:00hrs and Sparta Boss engages Ol Skool Ballers at 23:20hrs.
The event will continue on Saturday at the Albousytown tarmac. Winner of the overall event will walk-away with $500,000 and the championship trophy along with automatic qualification for the National Playoffs.
The runner-up, third and fourth placed finishers will receive $250,000, $200,000 and $100,000 respectively.
The event is also sponsored by Colours Boutique.4
Around the Web