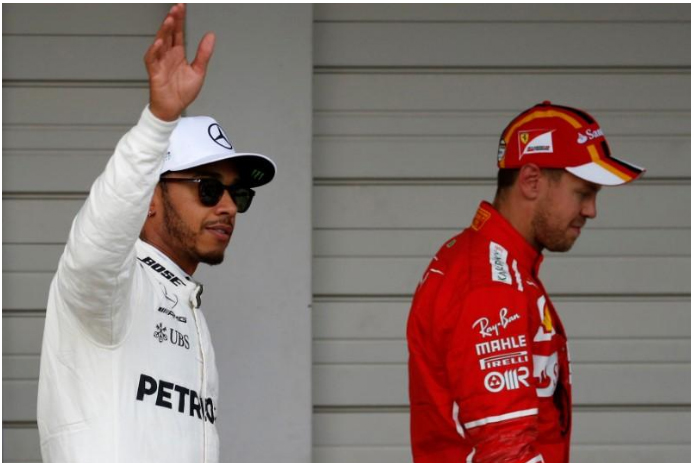 ABU DHABI, (Reuters) – Formula One's four-times world champions Lewis Hamilton and Sebastian Vettel engaged in some light-hearted end-of-season banter on Thursday, already looking beyond the final race of the season and ahead to the next big battle in 2018.
For the first time, next year will see two quadruple champions start the season in search of a fifth title.
Mercedes driver Hamilton won his fourth in Mexico last month while Ferrari's Vettel became a four-time champion with Red Bull in 2013 after Michael Schumacher had retired with seven to his name.
Only Schumacher and the late Argentine great Juan Manuel Fangio, who was dominant in the 1950s, have won five championships.
Hamilton has won nine races this season and Vettel five with the pair looking at one stage like taking their title battle down to the wire before Ferrari's challenge fizzled out with collisions and engine failures.
Vettel said the experience of 2017, after the team failed to win a race in 2016, filled him with confidence.
"I think if we can do a similar step for next year…then it should be a walk in the park," he declared with a smile while appearing with Hamilton in a news conference at the season-ending Abu Dhabi Grand Prix.
"I think the step that we've done this year was incredible. We learned our lessons so I believe that also those will help us next year. We are completely fired up."
Asked for a particular highlight of the 2017 season, Vettel grinned.
"Shall we start with Baku? Break the ice?" he asked as Hamilton chuckled.
The pair clashed famously in Azerbaijan in June, with Vettel running into the back of the Mercedes while behind the safety car and then pulling alongside to bang wheels in what was seen by some as a 'road rage' incident.
A question about the best overtaking move also triggered laughter.
"I have a very bad memory," confessed Hamilton, before Vettel interjected: "Not much to remember – you didn't have to pass that many people.
"I passed you a couple of times," retorted Hamilton.
Vettel also had a dig at his own behaviour when, asked whether the sport should have a fair play award, he singled himself out for honours.
"I should get the 'move of the year', 'personality of the year' and what was the last one? fair play? oh, fair play maybe not," he said, as Hamilton laughed. "But those two for Baku for sure."
Around the Web