Pepsi Hikers, Woodpecker Hikers and Pizza Hut Georgetown Cricket Club (GCC) were amongst the wins, on Wednesday, opening night of the 13th Annual Diamond Mineral Water Indoor Hockey Festival at the Cliff Anderson Sports Hall, Homestretch Avenue.
Pepsi Hikers downed Old Fort 3-1 in the Men's Division, as Aroydy Branford bagged a double in the seventh and 16th minute, while Devin Munroe scored in the 40th minute.
On target in the loss was Jael Gaskin in the 26th minute. Meanwhile, Pizza Hut GCC crushed Bingo Spartans 10-1 in the Women's Category.
Kerensa Fernandes recorded a helmet trick in the second, 19th, 33rd and 34th, while Trisha Woodroffe tallied a hat-trick in the ninth, 20th, and 29th minute.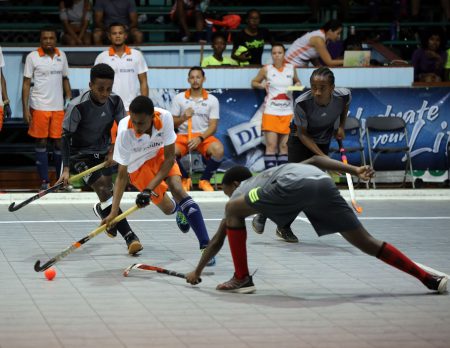 Adding to the scoreline were Shebiki Baptiste, Carina Moller and Tiffany Solomon in the 28th, 35th and 40th minute, respectively. For the loser, Sarah Klautky scored in the 16th minute.
Continuing in the same section, Woodpecker Hikers defeated Old Fort 2-0 compliments of Kenisha Wills' double in the fourth and eight minute.
In other results, Bounty GCC mauled Saints 8-1 in the Men's Division, while GCC Vintage downed Old Fort 3-1 in the Veteran's Category. The event resumes today at the same venue with another round of matches.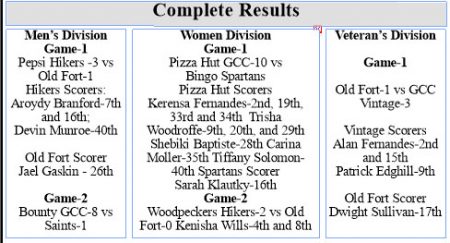 Around the Web