Back Circle, Bad-A-Yard, West Front Road, Rising Stars, Leopold Street and North Ruimveldt won their matches  when the Guinness 'Greatest of the Streets' Georgetown Zone continued on Saturday.
Witnessed by a mammoth crowd at the Albouystown Tarmac, it was a night to forget for the teams that emanated from the community, as they suffered hard-fought losses.
Back Circle downed Albouystown-B 4-3 on sudden death penalty kicks, after normal time ended 0-0, while Bad-A-Yard needled Albousytown-A 1-0 compliments of an own goal in the fourth minute.
On the other hand, West Front Road downed Judgement Yard 1-0 to seal their berth in the knockout round. Randolph Wagner scored in the 16th minute.
Similarly, North Ruimveldt downed Smyth Street 2-0 to seal their place in the elimination section. Travis Grant and Eon Alleyne found the back of the net in the fourth and 15th minute respectively.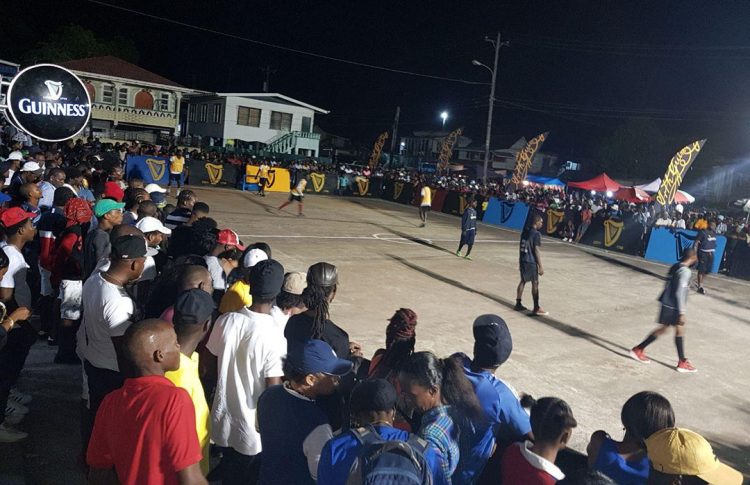 Meanwhile, Rising Star upstaged Trap Squad 1-0 through a Daniel Ross strike in the 12thminute. Leopold Street crushed GTI Ballers 3-0.
Omallo Williams scored in the third minute, while Tyrese Forde netted a 'Guinness Goal' (GG)-(a goal scored in the final three minutes of the match is counted as two) in the 17thminute.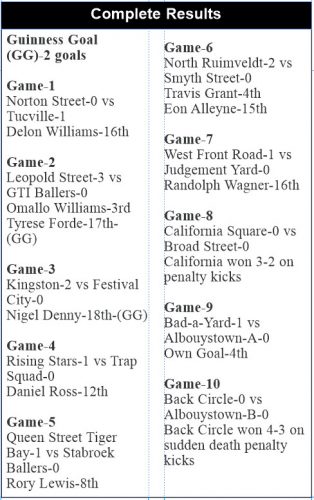 In other results, Tucville downed Norton Street 1-0. Delon Williams scored in the 16th minute. Also, Kingston downed Festival City 2-0 through a Nigel Denny 'GG' in the 18th minute.
Also, Queen Street Tiger Bay needled Stabroek Ballers 1-0. Rory Lewis scored in the eighth minute.
On the other hand, California Square overcame Broad Street 3-2 on penalty kicks, after normal time ended scoreless.
The event resumes tomorrow (Tuesday) at the Burnham Basketball Court Tarmac. At 19:00hrs, Gaza Squad will oppose Ol Skool Ballers, while Albouystown-A battles GTI Ballers at 19:15hrs and Leopold Street tackles Bad-A-Yard from 19:30hrs.

The fourth fixture will pit Rising Stars against Back Circle at 19:45hrs, while Bent Street matches skills with Tucville from 20:00hrs and Broad Street engages Queen Street Tiger Bay at 20:15hrs.
In the final three matches, North East La Penitence tackles New Market Street at 20:30hrs, Future Stars battles Alexander Village from 20:45hrs, and Albouystown-B tackles Trap Squad from 21:00hrs.
Winner of the overall event will walk-away with $500,000 and the championship trophy along with automatic qualification for the National Playoffs.
The runner-up, third and fourth placed finishers will receive $250,000, $200,000 and $100,000 respectively.
The event is also sponsored by Colours Boutique.
Around the Web