After yesterday's colorful parade of districts for this year's National Schools Cycling, Swimming and Track and Field Championships at the National Track and Field Centre, Minister of Social Cohesion, Dr. George Norton trumpeted the importance of sport during the feature address of the opening ceremony.
"Sporting events play a major role in bringing Guyanese from all walks of life together. It is a powerful medium for social and economic change" Norton stated.
Norton then added that activities like these also propels athletes to be aware of their talent to potentially become future Olympians.
The Minister added that the government recognizes the important role that sports play, not only for social cohesion and economic and national development but for education as well.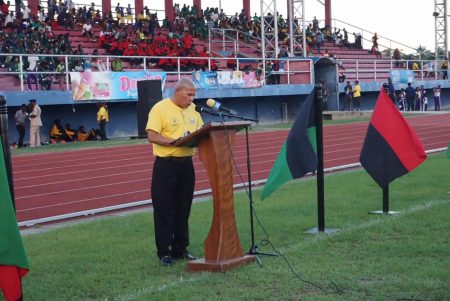 Further, Norton reminded that as a result, the government has been keen to provide substantial finances and attention towards the development and enhancement of sporting facilities, gear, training equipment and the inclusion of sports in the school's curriculum.
Another keynote speaker, Minister of Education, Nicolette Henry then emphasized that the inclusion of Physical Education in the schools' curriculum was very timely as it is a well-known fact that there is a correlation between a sound mind and a healthy body.
"If we are to produce mentally alert, energetic and healthy children, then they must be involved in sport and games."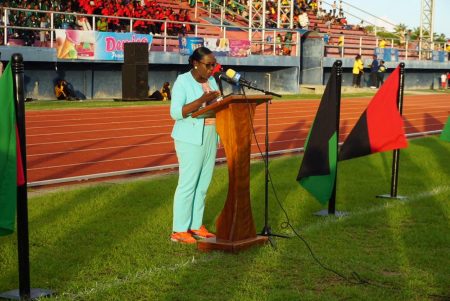 During Henry's address, she also quoted Nelson Mandela an anti-apartheid revolutionary, political leader and philanthropist, who served as President of South Africa.
"Sport has the power to change the world. It has the power to inspire. It has the power to unite people in a way that little else does. It speaks to youth in a language they understand. Sport can create hope where once there was only despair."
Brief remarks were also made by Regional Executive Officer of Region #3, Denis Jaikarran and General Secretary of the Guyana Teacher's Union (GTU), Coretta McDonald.
During the ceremony, there were musical renditions by the West Demerara Secondary School Steel Orchestra and a physical display by the South Ruimveldt Secondary School.
The track and field events will continue on a daily basis for the remainder of the week at the Leonora venue with action starting at 09:00hrs.
Around the Web