By Noelle Smith
Leon Seaton smashed a 22-year-old record on his way to winning three gold medals as North Georgetown's (District 11) rule of the pool continued for yet another year following yesterday's swimming competition of the 57th annual Guyana Teachers Union National Schools Cycling, Track and Field and Swimming championships at the National Aquatic Centre, Liliendaal.
Such was the dominance of the North Georgetown swimmers that their team ended up with 422 points, with their nearest competitor, District 10 (Upper Demerara/Kwakwani) trailing in their wake with a mere 296 and one half points.
There was not much the other districts could do to stop District 11 as Seaton combined with Lian Winter and Amy Grant to form a powerful triumvirate.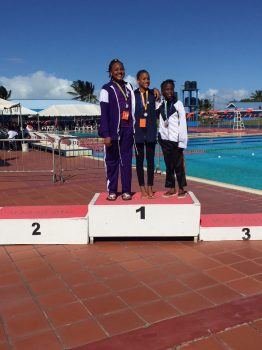 But the glory was also shared by District 11's  Teshanna Hunter (girls under 10),  Jeremy Sookram (boys under 10), Giselle Crane (girls under 16), Noel (boys under 16), Accalia Khan (girls Open), Daniel Scott (boys Open) and Alex Winter (boys open).
Each swimmer won multiple events in their respective age categories as they helped the defending champs retain their title with relative ease.
But yesterday belonged to Seaton. The U14 swimmer broke Nicholas Fraser's 1995 50m backstroke record of 32.10s with a time of 31.66s.
He also won the 50 freestyle race and, along with teammates Raekwon Noel, Daniel Scott and Winter won the boys' 200m freestyle relay.
"I am extremely happy about the way I swam today. To break a record that stood for twenty-two years brings about good feeling, especially with the former record holder to be present to learn that his record has fallen is really nice," Seaton told Stabroek Sports afterwards.
South Georgetown (District 13) placed third with 237 points.
Upper Demerara/Kwakani (District 10) owed their second place finish to the efforts from swimmers such as Fitzroy Thom who was their top performer in the boys Under 18 category.
District 10 swimmers, in many races, gained their points by placing from second to fifth with the top positions usually eluding them.
Rayvon Pires (boys under 16) and Romario Daw (boys under 10) both earned silver medals.
South Georgetown owed their third place to the efforts of Telford George (boys under 10) Paul Mahaica (boys under 12), Latisha Blair (girls under 16) Sion Jeffers (boys under 16) and Donna Carter (girls under 16).
Also winning events yesterday were  Andicia Vieira of District 14 (girls under 10), Aleka Persaud of District 12 (girls under 12), Nikita Peters of District 12 (girls under 14), Sekhel Tzedeq of District 12 (boys under 16), and Anestecia Valenzuela of District 1 (girls under 16).
Around the Web