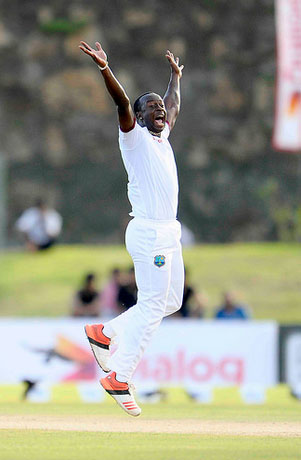 WELLINGTON, New Zealand, CMC – Fast bowler Kemar Roach has warned against inconsistency as West Indies gear up for their two-Test series against New Zealand.
Speaking to reporters here yesterday in the build-up to the opening Test at the Basin Reserve, the 29-year-old said the Caribbean side had been prone to up-and-down performances in the past but were dealing with the issue through more intense preparation.
"Consistency is always our downfall. I think once we get on the park and play as one, I think the performances will come," Roach said.
"The guys have been preparing well [and] working very hard and I think this Test series is going to be a very good one.
"I think the New Zealand team is a very good one and I think once we can come in here and perform well as we would like to do, go out there and put the best foot forward, it will be pretty much a good series."
West Indies have struggled in recent times and currently lie eighth in the Test rankings, well behind the Black Caps who are fourth.
However, the Jason Holder-led side has shown signs of improvement over the last 12 months, winning a Test in each of the four series they have contested. Roach, who returned to international cricket five months ago following nearly a year-and-a-half's absence, said their historic win at Leeds last August had been particularly inspiring and had done much for the squad's confidence.
"That second Test in England was very historic for us and I think it gave us a greater sense of belief. I think the guys now are more confident in themselves and realise we can beat top teams and top individual players," Roach pointed out.
"I think once we keep believing in ourselves there is nothing that stop us. I think we just have to be consistent and keep working hard, and never take anything for granted and I think the performances will come."
Roach's return has been welcomed by the Windies as he has brought a new dimension to their attack with his experience and ability to move the ball both ways.
A veteran of 42 Tests – the most by anyone in the current side – Roach was their best bowler on the three-Test tour of England with 11 wickets, and still managed to bowl impressively on the flat, slow tracks in Zimbabwe earlier this month when he picked up six wickets in two Tests there.
Alongside the likes of fellow seamers in captain Jason Holder, Shannon Gabriel, Miguel Cummins and Alzarri Joseph, Roach said he believed he had a key leadership role to play in the attack.
"I'm one of the guys who have played the most Test matches so I'm looked at as more senior," he noted.
"So it's all about me setting the tone and being the leader I should be, obviously putting the best foot forward for the team.
"I think I'm very confident in my bowling right now, I'm feeling very good about myself, I've been able to stay on the park and stay fit for a longer period of time and that's really good for me."
The first Test bowls off tomorrow with the second match carded for Seddon Park in Hamilton starting December 9.
Around the Web