A comprehensive Power-lifting Referee Seminar was held at the Ramada Princess yesterday.
The event which was coordinated by the Guyana Amateur Powerlifting Federation (GAPLF) saw 31 participants being welcomed by the President of the federation, Ed Caesar.
Trinidadian, Gabre-Jesu McTair, a Category Two Referee and Vice President of the local federation, Gordon Spencer, also a Category Two Referee were the presenters of the Seminar.
In attendance were athletes, sports officials and powerlifting enthusiasts.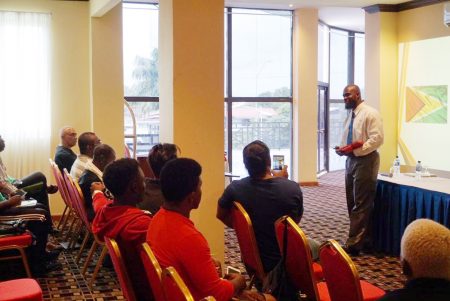 Topics presented via Power Point included: the General Rules, Things Athletes Should Know, Referee Commands and Signals, Scoring. There was also Video Analysis and Practical Demonstrations.
Remarks were also made by Dr. Karen Pilgrim, Doping Control Officer, WADA/RADO and Spencer.
Around the Web