If you are a fan of the iron and strength sports, then yesterday at the Ramada Princess poolside was the place to be since some of the best powerlifters in the country took the platform to do battle in what turned out to be a record-breaking day.
When the dust settled following the Senior Championships in which each of the 22 athletes pushed their muscle fibres to the max, Vijai Rahim (male overall unequipped winner), his Hardcore Gym mate, Hardat Tarson (male overall equipped winner) and Grace Babb of Tower Gym, emerged as the last men and woman standing.
Rahim lifting in the 74kg class, had wilks points of 504.128 after squatting 235kg, bench pressing 142.5kg and dead lifting 300kg for a total of 677.5kg. All while doing the lifts without equipment (raw). Each of his herculean feats along with the total were unequipped national records. On his way to winning the overall spoils of the male unequipped segment, Tarson also lifting class in the 74kg class, posted a best deadlift of 255 kg while bench pressing 150kg and squatting 260kg for a 665kg total. His wilks points was 483.522.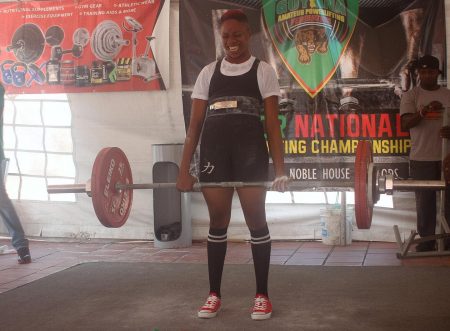 While Rahim took the overall title by virtue of recording the highest wilks points, his other gym mate, Fazim Abdool recorded the highest total of the championship with 775kg.
The behemoth from Berbice lifting in 105kg class recorded a mammoth bench press of 202.5kg which got an applause from the pumped up crowd.
Prior to his pressing, Abdool squatted 290kg then returned to dead lift 282.5kg. His wilks points of 465.697 however, was not enough to unseat Rahim.
While the Berbicians were busy setting new personal bests, Joseph Stoll was also in record breaking mode. Lifting in the Master's Two-105kg division, Stoll of Buddy's Gym broke the national records in the squat (165kg), deadlift (182.5kg), bench press (90kg) and total (437.5kg).
Babb recorded a 277.5kg total with a wilks points of 296.675 to claim her title just ahead of her gym mate and sister Blossom Babb who had a total just 5kg lower. Blossom's wilks points was 275.225.
Powerlifting is comprised of three lifts, the squat, bench press and deadlift with the winner of each weight category posting the biggest total in kilos.
The competition which was run by the Guyana Amateur Powerlifting Federation (GAPF) in conjunction with Fitness Express, Dyna's Embroidery and others, was used a yardstick to select athletes for international competitions next year. The GAPF will kick start next season's local calendar with the traditional novice competition in early February.
Around the Web