Rahim was the male overall unequipped winner, his Hardcore Gym mate, Hardat Tarson was the male overall equipped winner and Babb of Tower Gym, the female overall unequipped winner defeating her sister Blossom in the process.
Powerlifting is made up of three lifts, the squat, bench press and deadlift with the winner of each weight category posting the biggest total in kilos.
The competition which was run by the Guyana Amateur Powerlifting Federation (GAPF) in conjunction with Fitness Express, Dyna's Embroidery and others, was used a yardstick to select athletes for international competitions next year. The GAPF will kick start next season's local calendar with the traditional novice competition in early February.
Following is the Fact Box of the GAPF's National Senior Powerlifting Championships.
1) It was the first time that the strength sport was hosted pool side.
2) Vijai Rahim and Grac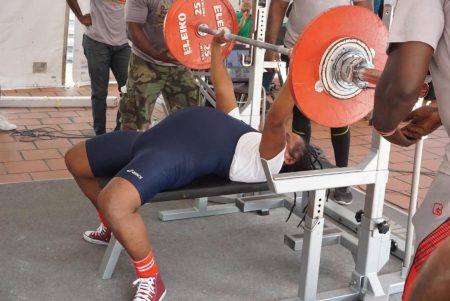 e Babb were the male and female overall winners of the annual fixture with 504.128 and 296.675 wilks points respectively.
3) There were five record breakers, Romario Gonsalves, Franklyn Brisport, Brandon Badal, Joseph Stoll and Frank Tucker.
4) 17 national records
were broken.
5) Gonsalves broke the 66kg junior and open squat record (210.5kg)
6) Brisport broke the Masters 1 squat (142.5kg), bench press (72.5kg), deadlift (167.5kg) and total (382.5kg) records in the 66kg class.
7) Badal rewrote the record books after setting new marks in the 83kg sub junior class with new squat (187.5kg), bench, deadlift (220kg) and total (522.5kg) records.
8) Stoll and Tucker were equally impressive, setting new squat, bench and deadlift and total record in the Master 2-105kg and Master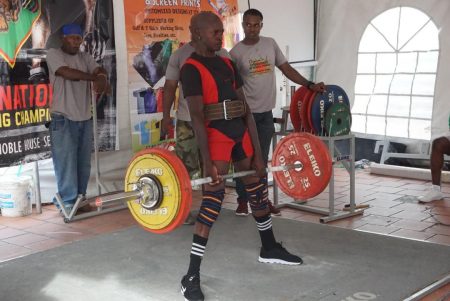 3 105kg classes.
9) Stoll squatted 165kg, benched 90kg, deadlifted 182.5kg and had a total of 437.5kg.
10) Tucker squatted 230kg, benched 100kg, deadlifted 202.5kg and had a total of 532.5kg.
Around the Web