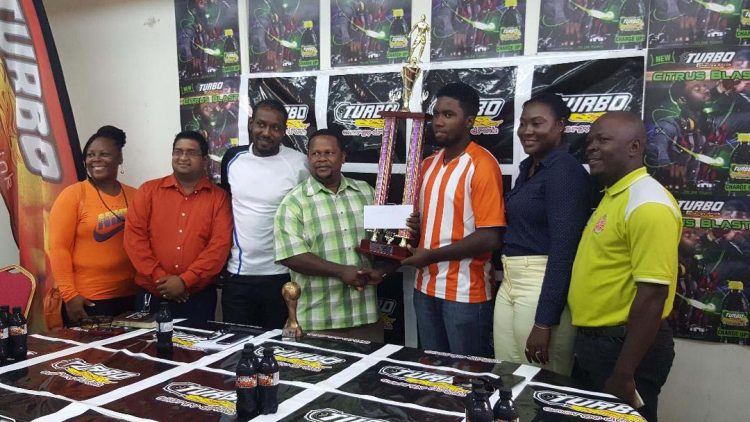 Camptown Football Club was yesterday presented with their prize monies and the championship trophy for winning the inaugural Turbo Energy Drink Knockout Football Championship at a simple presentation ceremony held at the Guyana Beverage Incorporated Headquarters, Diamond.
The Campbellville based unit secured the title, after upsetting the Guyana Police Force (GPF) 1-0 on December 3rd at the Ministry of Education ground, Carifesta Avenue.
For their showing, Camptown collected $500,000 and the championship trophy. GPF for their efforts, walked away with $250,000 and the corresponding accolade.
Meanwhile, Pouderoyen, who needled Grove Hi-Tech 1-0 to clinch the third position, received $125,000 and a trophy while Grove Hi-Tech pocketed $75,000 and the respective trophy. The event was coordinated by the Petra Organization.
On the individual side, Camptown FC's goalkeeper Richie Richards was adjudged the event's Most Valuable Player.
Troy Mendonca, Petra Co-Director and one of the tournament organisers, stated, that the tournament was a success, adding, "In the end football won, we had a great response from the fans, the players and the clubs."
Guyana Beverage Incorporated Commercial Manager Samuel Arjune thanked the players and the tournament organizers for a well-executed event, adding, "We at GBI stand ready to support sport development in Guyana."
Comments

MOUNT MAUNGANUI, New Zealand, CMC – West Indies Under-19s' title defence ended in shambles with a heavy 76-run defeat to South Africa Under-19s, but controversy accompanied their disappointing exit from the ICC Youth World Cup here Wednesday.

NEW DELHI, India, CMC Superstar Chris Gayle headlines several top-tier West Indies players who will join over 1 000 players in the highly anticipated Indian Premier League auction scheduled for month end.

BELFAST, Ireland, CMC Two-time former 50-overs champions West Indies maybe the highest seeded side in the ICC World Cup qualifiers but they hold no terrors for minnows Ireland.

With only one day remaining for the registration process of the Guinness Greatest of the Streets West Demerara/East Bank Demerara zone, approximately 24 teams have submitted their participation forms for the qualifying stages.

Coach of the already crowned champions of the 2017/18 edition of Cricket West Indies Regional four-day first-class championships, Esaun Crandon, has suggested that there will be little tinkering to the squad set to take on the Trinidad and Tobago Red Force in their final round match, which begins at the Guyana National Stadium tomorrow.