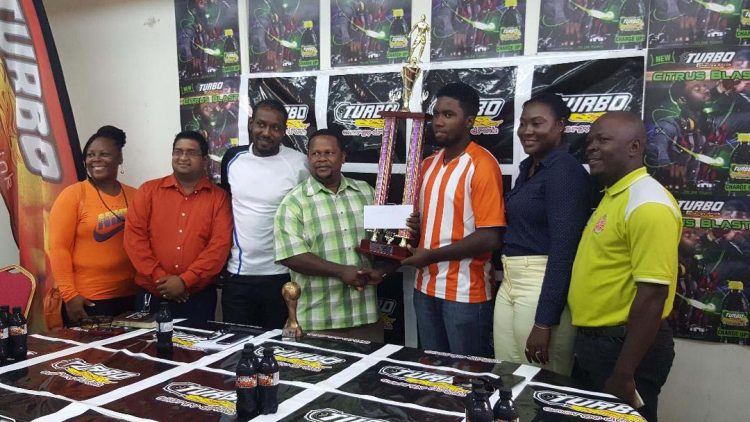 Camptown Football Club was yesterday presented with their prize monies and the championship trophy for winning the inaugural Turbo Energy Drink Knockout Football Championship at a simple presentation ceremony held at the Guyana Beverage Incorporated Headquarters, Diamond.
The Campbellville based unit secured the title, after upsetting the Guyana Police Force (GPF) 1-0 on December 3rd at the Ministry of Education ground, Carifesta Avenue.
For their showing, Camptown collected $500,000 and the championship trophy. GPF for their efforts, walked away with $250,000 and the corresponding accolade.
Meanwhile, Pouderoyen, who needled Grove Hi-Tech 1-0 to clinch the third position, received $125,000 and a trophy while Grove Hi-Tech pocketed $75,000 and the respective trophy. The event was coordinated by the Petra Organization.
On the individual side, Camptown FC's goalkeeper Richie Richards was adjudged the event's Most Valuable Player.
Troy Mendonca, Petra Co-Director and one of the tournament organisers, stated, that the tournament was a success, adding, "In the end football won, we had a great response from the fans, the players and the clubs."
Guyana Beverage Incorporated Commercial Manager Samuel Arjune thanked the players and the tournament organizers for a well-executed event, adding, "We at GBI stand ready to support sport development in Guyana."
Comments

HARARE, Zimbabwe, CMC – West Indies sneaked into next year's World Cup in England but just barely, as heavy rain coupled with a controversial umpiring decision, helped them beat Scotland by five runs under Duckworth-Lewis-Stern, and stage a great escape in their final Super Six match of the ICC World Cup Qualifiers here yesterday.

Nine months after successfully hosting the South American U-20 Championships, a delegation is readying to present a bid to the North American, Central Amer-ican and Caribbean Athletics Association (NACAC) to host the CARIFTA Games for the first time on these shores.

Top Brandz Distributors will team up with the Guyana Rugby Football Union (GRFU) for the first time under their Hairoun Beer-brand in support of the union's season opener on Saturday at the National Park.

The Guyana Table Tennis Association (GTT) is appealing for corporate support to assist it participate at this year's Caribbean Junior and Cadet Table Tennis Championships  in Havana, Cuba from April 2-8.

After the resounding success of the first three seasons of the Americas Rugby Championship, the continent will inaugurate a new performance tournament for countries in Sudamérica Rugby and Rugby Americas North.