TAROUBA, Trinidad, CMC – Barbados Pride captain Shamarh Brooks narrowly missed out on a hundred and left-hander Jonathan Carter supported with a solid half-century to help their side make a strong start against Trinidad & Tobago Red Force in their Regional 4-Day Championship match on Thursday.
Brooks survived a couple of chances to hit 96 and Carter made 72, but they were two of three wickets that fell in the final session to leave the Pride on 267 for five at the close, after they decided to bat on the first day of their seventh-round match at the Brian Lara Cricket Ground.
Brooks, the West Indies "A" Team "Test" captain in the recent home series against Sri Lanka "A", and sidelined West Indies One-day batsman Carter shared a third-wicket stand of 170 that dominated most of the day.
But they, along with Kenroy Williams were dismissed during the final session, as the Red Force fought back, leaving all-rounders Kevin Stoute, not out on 29, and Justin Greaves, not out on 16, to bat through the remainder of the day.
Off-spinner Bryan Charles has been the most successful Red Force so far, taking 2-50 from 18 overs.
Pride had an unsteady start to the day, when the flashy left-handed opener Anthony Alleyne was caught behind off left-arm fast-medium bowler Daniel St. Clair for 22.
Five overs later, Charles struck, when he trapped Shayne Moseley, the other left-handed opener, lbw for 20 to leave Pride 47 for two. But Carter came to the crease and with Brooks eased the tension in the dressing with periods of consolidated broken with typically enterprising strokes.
They carried the Pride 88 for two at lunch and continued to score freely after the interval during a period when they both raised their half-centuries with aplomb before leading the visitors to 202 for two at tea.
After the break, Carter, whose knock included seven fours and one six from 143 balls, fell within the first half-hour, when he was caught in the deep off Charles.
Brooks hit 11 fours from 199 balls and followed four overs later, when he was trapped lbw to left-arm spinner Ricky Jaipaul.
Pride suffered another setback, when Williams was stumped for two, charging down the pitch and being deceived by veteran leg-spinner Imran Khan to leave the visitors 234 for five, but Greaves cam,e to the crease and settled the nerves with Stoute.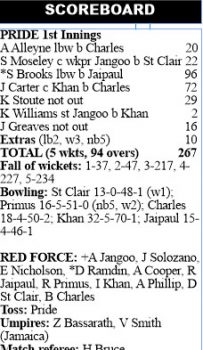 Pride made one change, bringing former West Indies Under-19 World Cup-winning all-rounder Shamar Springer in to replace fast bowler Keon Harding.
Red Force made three changes: They brought Jaipaul, Akiel Cooper and Anderson Phillip in to replace Yannic Cariah, Tion Webster and Khary Pierre.
Pride started the match placed fifth in the League table with 56.8 points and have so far added two batting points.
Red Force entered the match positioned third with 67.6 points and have so far gained one bowling point, plus 0.2 pace bowling points.
Comments

Afghanistan and Ireland in shootout today for final place ICC Media: The United Arab Emirates broke around 20 million hearts and made nearly 50 million friends when they all but eliminated Zimbabwe from the ICC Cricket World Cup 2019 race to give Afghanistan and Ireland a lifeline by turning their last Super Six match as a shootout for the last remaining spot in the ICC's pinnacle 50-over event which will be staged in England and Wales from 30 May to 14 July.

AUCKLAND, (Reuters) – New Zealand captain Kane Williamson was in sight of his 18th test century as the ball dominated the bat on the opening day of the two-match series with England dismissed for a record low score of 58 at Eden Park on Thursday.

Colts clinched the First Division title, while Plaisance Guardians secured the Under-23 Championship, as they both swept their respective best-of-three finals, 2-0, as the Georgetown Amateur Basketball Association (GABA) 'Knockout Championship' concluded on Wednesday.

Harvard Rugby Club of Trinidad and Tobago will arrive in Guyana today ahead of tomorrow's showdown at the National Park, in the Guyana Rugby Football Union (GRFU)/Hairoun Beer Sevens tournament.

The 2018 cycling season will resume tomorrow in the National Park with the staging of the Fifth Annual Star Party Rental 11-race programme.