The Amateur Swimming Association of Trinidad and Tobago (ASATT) 2017 Invitational Long Course Championships continued on Friday and yesterday morning at the Aquatic Centre in Couva, Trinidad, with several good performances by swimmers from the Dorado Swim Club and Swim Academy Sea Otters of Guyana. There were two new national records and many personal best times by several swimmers in their respective events.
Daniel Scott of Dorado Swim Club continued on his record breaking streak, as he rewrote two national records in the Mens 15 and over age group. Yesterday morning he set new times of 9:32:44 in the 800m freestyle, and 2:07:73 in the 200m freestyle. It was déjà vu for Scott in the 800m freestyle race, as the top finishers were the same as for the 1500m freestyle. Graham Chatoor of Marlins won in 8:52:72, with Scott taking the silver, third place going to Jordane Pane in 9:42:80, and fourth to Scott's club mate, Alex Winter who clocked 10:21:21. Scott's good form continued in the100m freestyle, 200m freestyle and 50m butterfly events, where he also swam personal bests.
Raekwon Noel, the Sea Otter also added his name to the record books, as he recorded a time of 10:28:74 in the boys 11-12 800m freestyle. Noel swam the fastest time for the boys of his age category, while setting a new national record. He also achieved personal bests in the 100m freestyle and 50m butterfly events.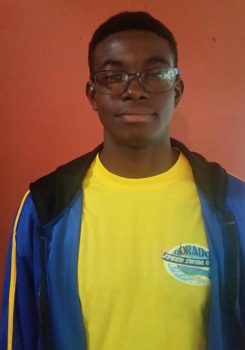 Amy Grant captured the gold medal in 800m freestyle in the women 15 and over category, stopping the clock at 11:13:54. She also placed fourth in the 50m butterfly with a time of 31:35, as Atlantis Aquatics' Deshor Edwards finished first in 30:51.
Swimming personal best times in the 100m freestyle and 50m butterfly, were 8 and under girls Kyra Soares and Jasmin Allen, 9-10 girls Monique Watson and Zara Crane, 9-10 boys Vladimir Woodroffe, Elliot Gonsalves and Jason Allen, girls 11-12 Lian Winter, Maiya Ifill and Giselle Crane.  Donna Carter in the girls' 13-14 age category swam a personal best time in the 50m butterfly.
In the men 15 and over, Winter managed personal bests in the 100m freestyle and the 200m breaststroke.
During Saturday's morning session, Watson, Crane, Woodroffe, Ifill and Ethan Gonsalves achieved personal bests in the 200m freestyle in the boys' 11-12 category.
As of yesterday morning Dorado was in thirteenth position in a field of twenty-five clubs. Topping the table was Tidal Wave Aquatics, followed by Marlins Swim Club and Atlantis Aquatics Swim Club, all of whom are based in Trinidad. (Noelle Smith)
Around the Web