Members of the Dorado Swim Club and Swim Academy Sea Otters continued to show their form as the Amateur Swimming Association of Trinidad and Tobago (ASATT) Invitational Swimming Championship continued Saturday evening and Sunday morning at the National Aquatic Centre in Couva, Trinidad.
Continuing what he started in the 800m freestyle on Saturday, Raekwon Noel swam another record- breaking time, this time in the boy 11-12 400m freestyle. The youngster completed the race yesterday morning with a time of 4:54:88.  Adding to the medals the club had already won was the boys' 9-10 team when they finished second in the 200m medley relay. The team, made up of Tyler Allicock, Elliot Gonsalves, Vladimir Woodroffe and Jason Allen finished in a time of 2:50:23, behind the Tidal Wave Aquatics team who finished in first. Third place went to Sea Jay's boys. Daniel Scott earned a bronze medal in the Men 15 and over 400m freestyle with a time of 4:35:81.
Swimming in the 100m butterfly girls 11-12 category, Dorado's Lian Winter swam to 1:17:97 to finish in sixth position in a field of twenty-five girls. Winning the race was Kaizen Swim Club's (Belize) Zaneta Alvaranga in 1:07:00. The only other Dorado member to compete in the 100m butterfly was Ethan Gonsalves who finished in a time of 1:17:26 to earn seventeenth position from a field of twenty-two swimmers in the boys' 11-12 category.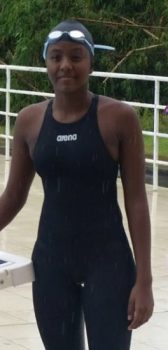 Most of the swimmers came out in the 50m breaststroke with many personal best times being the result of good competition. Impressive swims came from Kyra Soares, Monique Watson and Raekwon Noel in their respective age categories. Soares placed ninth out of twenty-seven in the girls 8 and under category in a time of 53:66. Her club mate Jasmin Allen finished in a time of 1:07:28. Taking the gold was Isabella Mendoza of Eagles Aquatics International Swim Club. In the girls' 9-10 category, Watson's 43:80 earned her eighth position in a field of thirty-eight girls. Club mate Zara Crane finished with a time of 47:70. The winning time came from Joy Blackett of Tidal Wave Aquatics.
Boys' 11-12 swimmer, Noel finished the 50m breaststroke in 39:35, taking tenth position out of thirty-four boys. Dorado's Ethan Gonsalves swam in a time of 41:67. Winning the race was Kyle West of Marlins Swim Club.
The senior males of Dorado, Daniel Scott and Alex Winter swam 32:88 and 34:20, taking tenth and fifteenth respectively. In this race there were thirty-three swimmers, Abraham McLeod of Atlantis Aquatics being the fastest of the lot.
Also swimming the 50m breaststroke were Dorado's boys 9-10. Gonsalves swam in 48:99, Woodroffe swam in 51:84, Allicock swam 52:51 and Allen did 58:15. Karic Charles of Lightning Aquatics had the fastest time.
Girls 11-12 swimmers, Lian Winter and Giselle Crane competed in the 200m backstroke, placing sixth and seventh respectively. Winter swam the race in 3:00:98, while Giselle finished in 3:04:58. Gabrielle Vickles of Tidal Wave Aquatics won the race for her club. They were also a part of the team that earned fourth position in the 200m medley relay. Together with Alina Woodroffe and Maiya Ifill, Crane and Winter produced a time of 2:36:53 to take fourth. Blue Dolphins Swim Club, Flying Fish Swim Club and Sharks Swim Club took first, second and third respectively.
Yesterday morning also saw swimmers compete in the 200m individual medley (IM) where the youngsters continued their strong swims. In the girls 8 and under, Kyra Soares swam 3:45:83. Winning was Keryn Burke of Atlantis Aquatics. 9-10 girls, Watson and Crane swam 3:06:17 and 3:26:20 respectively, with the winning time coming from Tidal Wave Aquatics Joy Blackett. In the boys category, Woodroffe, Gonsalves and Allicock finished in 3:10:87, 3:13:60 and 3:19:96 respectively, with Zachary Anthony of Marlins winning the race.
Winter, in the girls 11-12 category, swam a time of 3:10:87. The winner of this race was Zoe Anthony of Marlins. And in the boys category of the same age group, Noel and Gonsalves swam 2:50:09 and 2:50:58 respectively. Zarek Wilson of Blue Dolphins Swim Club won this race.
The Dorado Speed Swim club moved from thirteenth position after Saturday to eleventh after Sunday morning session ended. Tidal Wave Aquatics currently holds top position, with Marlins Swim Club in second and Atlantis Aquatics in third.
Around the Web