Mackenzie High secured the Boys title, while President's College clinched the Girls championship, when the Youth Basketball Guyana (YBG), 'Titan Bowl' concluded on Sunday.
Mackenzie High defeated their Region 10 counterparts Linden Technical Institute (LTI) 91-74.
Emerging talent Yannick Tappin recorded a monstrous 44 points in the rout, alongside eight steals, six rebounds and as many assists.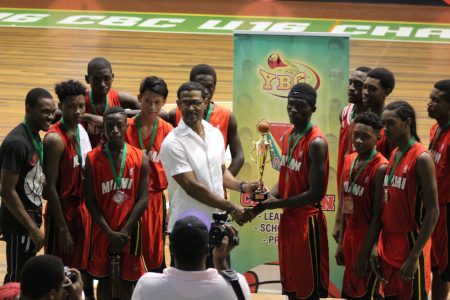 He was aided by Kevlon Cadogan, with figures of 14 points and seven rebounds and Leon Benjamin, who tallied 13 points and 11 rebounds.
For LTI, Jamal Gilkes top scored with 18 points and 15 rebounds, while Dillon Pellew supported with 14 points and 10 rebounds.
Chipping in with 13 points was George Yearwood. On the other hand, President's College edged Marian Academy 24-23 in the Girls Divisional Final.
Annalisa Barclay tallied seven points and five rebounds for the victor, while Roschelle Campbell added six points, 15 rebounds and three steals.
For the loser, Jada Mohan played a lone hand with figures of 19 points, seven rebounds and six steals.
Around the Web