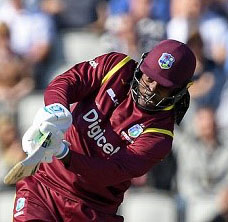 WHANGAREI, New Zealand,  CMC – West Indies head coach Stuart Law hopes superstar Chris Gayle brings his recent irrepressible form to the three-match one-day series against New Zealand but has warned that other players also need to step up, if the Caribbean side are to reap success.
The left-handed Gayle blasted 485 runs in the recent Bangladesh Premier League, including unbeaten hundreds in the playoffs and the grand final last week, to lift Rangpur Riders to the title.
Law said not only would Gayle's form be critical but so would be the knowledge base and confidence he brought to the group.
"Chris Gayle needs no introduction anywhere in the world for his feats on the cricket field," the Australian told reporters here.
"He's come here, he's had a fantastic tournament in Bangladesh in the T20 stuff, he looks really hungry to get out there and make a statement. It's nice having that experience back in the team.
"He brings a calmness to the group and he's obviously very well respected in the dressing room and the words that he says, everyone sits up and takes notice."
He added: "We … had a team meeting led by the players and he was very vocal in that. When he spoke everyone was sitting there listening. He was happy to sit there and point out a few areas where we really need to improve.
"The players are very mindful and understand they must get out there and seek every opportunity to do so."
Gayle only recently returned to the Windies one-day set-up following a 2-1/2 year break, and immediately showed he had lost little of his touch by averaging 43 with a top score of 94 in the five-match series against England last September.
The 38-year-old is by far the most experienced player in the young side, with 9394 runs from 273 ODIs with 22 hundreds and an average of just above 37.
He is one of several changes to the touring party from the recent Test series and a welcomed one, according to Law.
"He's a player that probably doesn't need to do as much physically as the other guys but mentally he's got his game, he understands where he's at," Law pointed out.
"He's a very smart cricketer. When he's on form, he's brilliant to watch so I'm looking forward to seeing him bring his experience and his knowledge and hopefully pass on a bit to the youngsters out in the middle and contribute greatly to our success."
Apart from Gayle, the Windies boast a talented lineup, with the likes of audacious left-handed opener Evin Lewis, Shai Hope and Jason Mohammed all having excelled in recent series.
And Law said it was important everyone pulled their weight and not necessarily depend on Gayle.
"You can't pinpoint one player but he does bring a hell of a lot experience and a lot of quality," said the former international batsman.
"While we're looking to him to lead from the front, the other players just can't leave it up to one person. Someone else has got to stick their hand up consistently so it's just not a one-man show … we're trying to build a good team here and Chris is a very important part of that."
The opening one-dayer was set to kick off last evening.
Around the Web