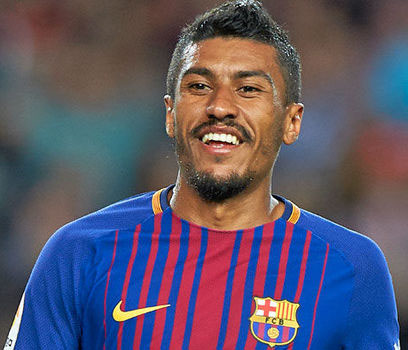 MADRID,  (Reuters) – When Paulinho signed for Barcelona in August from Chinese side Guangzhou Evergrande the deal was widely viewed with derision, with both fans and the media doubting the Brazilian had the quality to thrive at Camp Nou.
The months since have seen his detractors eat humble pie.
Paulinho has earned his place in the Barcelona side and has become a crucial part of manager Ernesto Valverde's system, meaning he is likely to line up against Real Madrid at the Santiago Bernabeu in Saturday's Clasico.
With Neymar leaving for Paris St. Germain, a gap in the side opened up and although Ousmane Dembele was signed from Borussia Dortmund to fill it, the Frenchman's hamstring injury has kept him sidelined.
Although Paulinho, a rugged box-to-box midfielder, does not occupy the same space on the pitch as wingers Neymar and Dembele, he has forced his way into the side.
Valverde has changed Barcelona's formation from 4-3-3 to 4-4-2, with Paulinho's presence giving the Catalans far greater defensive security, meaning Sergio Busquets does not have to do the midfield's dirty work alone, and making them difficult to break down.
That does not mean the attacking threat has been badly diminished though, with Paulinho contributing six La Liga goals, more than any player at Real Madrid, including vaunted forwards Cristiano Ronaldo, Karim Benzema and Gareth Bale.
Paulinho, 29, who failed to make a mark at Tottenham Hotspur in the Premier League and rejuvenated his career in China with Guangzhou has been one of the revelations of the season.
"I've not come here to shut any mouths, but to work hard for the team, and that's what I am doing," said Paulinho in November. Instead he has left them agape, forming an unlikely but profitable partnership with Lionel Messi which has been a big factor in Barcelona's unbeaten start to the season.
The Argentine has enjoyed playing off Paulinho when he bursts forward from midfield to unsettle defences, creating space for Barca's legendary playmaker.
"I think that Paulinho is evolving and he is raising his level," said Brazil coach Tite, who will call on the midfield dynamo next year at the World Cup, barring injury.
If Paulinho can continue his excellent form against Madrid and help Barcelona open up a 14 point lead over their arch-rivals, he will be one step closer to arriving in Russia with a La Liga winners' medal around his neck.
Around the Web