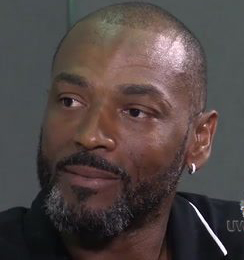 Floyd Reifer will perhaps go down as one of the more unpopular West Indian captains after leading the side against Bangladesh in few test matches during a period of rebellion in 2009 where the majority of the senior players protested against the board for better wages which saw the Bajan holding the fort in the interim.
However, a few things are for sure, the six-test wonder knows the game, has an eye for talent and would have worked and played with a number of the players in the current West Indies environment.
It was on that basis that Stabroek Sports sat down with the man who is considered a first class knowledgeable to solicit his views on some trending commentary surrounding West Indies cricket. 

We first asked him about 2017 Guyana Cricket Board (GCB), senior cricketer of the year, Shimron Hetmyer who made his international debut, earlier in the year against Pakistan.
Hetmyer, after five test matches and two one-day internationals, has a highest score of 66 and has developed a reputation of playing a 'shot a ball', prompting pundits to call for  more sedate play from the 20–year-old.
Reifer, however, has a different take. "Don't curb his natural aggression."
"Obviously Hetmyer, yes, he has a lot of talent, and I've seen him play before. I've been watching him on television. Yes, he does play a shot a ball. He has that natural aggression, but my thing about it is that he's supposed to work on his shot selection. That's very important," Reifer lamented pointing to the variance in the quality of test cricket opposed to that of the regional first-class tournament.
The CCC head coach further added: "my advice is to him one: work on your shot selection which is crucial. Don't curb your natural aggression. Two: always have a batting plan when he goes out to bat. All the big boys in cricket do it. Think about where you want to score the first 25 runs or how many balls you want to leave up front."
Finally, he added: "another thing he has to work on a bit more is hitting the ball on the ground. As a number three batter, he hits the ball in the air a bit too much so I'd advise him to work on those", the 45-year-old added.
Stabroek Sports then asked about the possible return of Devon Smith who this season has so far churned out 873 runs, inclusive of five centuries, with three rounds remaining, to add some amount of experience to the Windies test side.
"You might need a Devon Smith for 18 months."
Here's what he added: "Devon is like wine man, he's getting sweeter as he gets older. I think he was always a good cricketer.
"Yes, he's scoring a lot of runs at the regional level, but if he comes back to the West Indies, he has to correct those flaws that he had because international teams have a lot of him and they are going to pry into those," he said of the 36-year-old. .
An interesting tip for the selectors he added though, "you might need a Devon Smith for 18 months. It's not necessary that he'll come back for the next five years, but you might need him now to fill a void to help build West Indies cricket," he noted about the value Smith can add being around the young batting unit.
Finally, the Bajan commenting on his countrymen in the Shai Hope, Kraigg Brathwaite and skipper Jason Holder, he spoke with confidence of the trio.
On Brathwaite, he concluded that he's the rock of the batting line up and will easily play 150 matches. He, however, concedes that he needs to continue adding to his game particularly upping his strike rate.
Hope, he also spoke highly of and only advised that he should continue doing what he does which is putting in the hard yards.
Touching on Holder, Reifer was a bit sympathetic to the young man who has copped a lot of criticism for his captaincy. Reifer nonetheless believes that he is the man for the job to carry Windies forward.
Around the Web