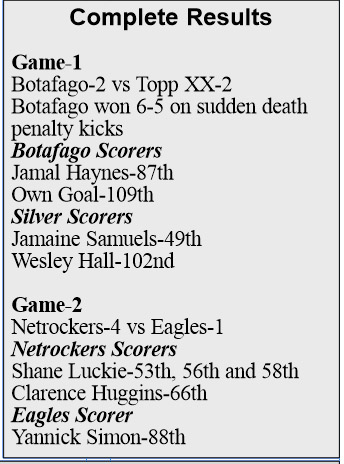 A new champion will be crowned in the 5th Annual Upper Demerara Football Association (UDFA)/GT Beer Football Championship, as Botafago downed holders Silver Shattas 6-5 on sudden death penalty kicks on Friday.
Locked at 2-2 at the end of regulation and extra time at the Mackenzie Sports Club (MSC) ground, Linden, penalty kicks were required to decide the outcome.
Clinical finishing highlighted the penalty kicks, as both teams converted each of their five attempts in front of a large crowd.
However, Delon McAllister was denied by the Botafago custodian to start the sudden death penalty kick realm.
Tasked with the responsibility of scoring possibly the winning penalty, Jermain Kingston made no mistake, as he blasted his effort into the back of the net.
Prior to the dramatic end, Jamaine Samuels handed Silver Shattas the lead with a 49th minute strike. This lead was maintained heading into the halftime interval.
However the game was pushed into the extra time period, as Jamal Haynes fashioned the equaliser in the 87th minute.
Silver Shattas retook the lead in the 102nd minute, as Wesley Hall lashed his effort into the back of the net.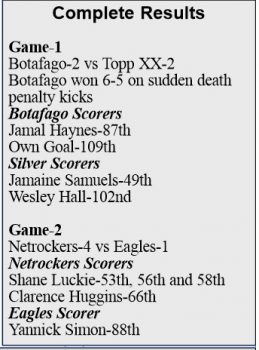 Nevertheless, Botafago levelled proceedings under fortuitous circumstances, compliments of an own goal in the 109th minute.
With the victory, Botafago will now oppose Netrockers in the finale tomorrow at the same venue, after the latter crushed Eagles 4-1.
Shane Luckie was the difference on the night, recording a second hat-trick, following a scoreless first half period.
Luckie handed Netrockers the lead compliments of a 53rd minute strike. He then doubled their lead via a 56th minute attempt to clinch his double.
The hat-trick was then completed, as he etched his name on the scorer's sheet in the 58th minute to push the score to 3-0.
The scoreline ballooned once more, with Clarence Huggins finding the back of the net in the 66th minute.
Yannick Tappin recorded a consolation goal in the 88th minute.
The respective losers will now match skills in the traditional third place playoff.
Around the Web