(The Sports Xchange) – Giannis Antetokounmpo caught the inbounds pass and immediately turned to size up his defender.
Antetokounmpo took a quick step to his right, crossing over his left leg toward the baseline as he drove around the Oklahoma City Thunder's Josh Heustis and then elevated toward the basket.
The Milwaukee Bucks star needed every bit of lift he could get, muscling on Thunder star Russell Westbrook just enough to get the dunk to fall through for the game-winner with 1.3 seconds left to lift the Bucks to a 97-95 win Friday night at Chesapeake Energy Arena.
The play left the Thunder fuming.
Antetokounmpo appeared to step out of bounds with his left foot as he drove past Heustis, and Oklahoma City players pointed at the video board high above the court.
The Thunder got composed enough for Westbrook to heave a desperation 3-pointer toward the bucket, but it came up short.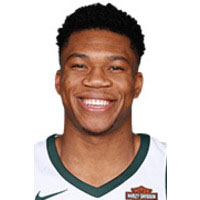 Antetokounmpo said afterward he hadn't seen the play and said he wasn't aware at the time that he might've stepped out of bounds.
"Coach trusted me having the ball late and making that play and do what I do best and go to the rim and try to make it happen," Antetokounmpo said.
Afterward, several Thunder players continued protesting to the officials, as the replay was once again shown in the building, this time zeroing in on Antetokounmpo's foot on the baseline.
"I guess we'll see something on the ticker that says the referees missed that one," Oklahoma City's Carmelo Anthony said.
"We can't do nothing about that at this point, so we might as well forget about it and move on and get ready for … who do we play Sunday? Dallas? Get ready for Dallas."
Thunder coach Billy Donovan wasn't among those protesting.
"I asked them if they could review it and they said they could not review it," Donovan said. "That's the only explanation I got."
After the game, crew chief Derrick Stafford told a pool reporter the play was not reviewable.
"In any reviewable matter, there has to be a whistle called on the floor," Stafford said. "There was no whistle blown for the play, so we couldn't review it."
Bucks coach Jason Kidd didn't get too caught up in the call.
"I don't understand the whole protest," Kidd said. "I can only worry about the score and then them trying to put time on the clock."
It was a strange end to a wild game.
The Bucks built up a 22-point lead in the first quarter and then slowly gave the lead up before Westbrook's deep 3-pointer with 5.7 seconds left tied the game for the first time since it was scoreless.
Milwaukee called a timeout to advance the ball, setting up Antetokounmpo's game-winner.
Antetokounmpo finished with 23 points and 12 rebounds to lead Milwaukee (19-15) to its second consecutive win. Khris Middleton added 20, John Henson 18 and Tony Snell 15.
"Just getting a win is big," Antetokounmpo said. "I think I did a good job moving the ball offensively and playing hard defensively."
A night before, Milwaukee came back from a 20-point deficit to beat Minnesota.
Westbrook scored a season-high 40 points, 14 in the final quarter. Anthony and Jerami Grant added 12 each for the Thunder (20-16), who had a six-game winning streak snapped.
"I'm more concerned about the fact that we didn't play well in the first quarter," Donovan said.
"There were some things that we needed to do better. Obviously, he stepped out of bounds. Everybody knows that. I did not get a chance to personally see the replay. I was trying to ask for a review. They couldn't review it, but that's something they have to deal with and the league has to deal with. I think the things I try to focus on is, what do we have to do to get better."
Around the Web