ST JOHN'S, Antigua,  CMC – Legendary former captain, Sir Vivian Richards, believes someone in the current West Indies setup should have picked up on fast bowler Ronsford Beaton's suspect action before he reached international level.
Beaton was reported to the International Cricket Council for a suspect bowling action, following the second One-Day International against New Zealand in Christchurch last week.
The 25-year-old Guyanese had made his debut in the first ODI in Whangarei just days prior.
Beaton previously represented West Indies Under-19s, West Indies A and was also called up for the Afghanistan Twenty20s earlier this year, though he failed to get a game.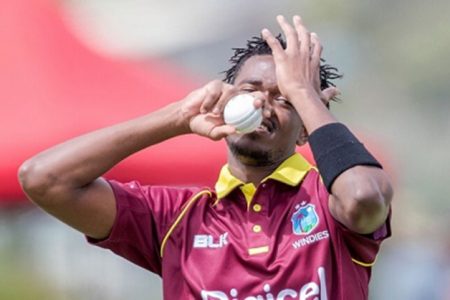 Sir Viv said with the player having gone through so many of the different stages of West Indies cricket, the onus was on coaches to identify these types of flaws.
"He [Windies bowling coach Roderick Estwick] is supposed to have the know-how and the technical knowledge as to how to get these guys and correct them and these guys [players] would have been through that particular department for quite some time to try and rectify all that," Sir Viv told the Observer newspaper here.
"Here now he goes on tour and he is reported and especially around individuals who would have been given the responsibility to make sure that this guy, all is fine with him and that's why he is on tour, so somebody dropped the ball somewhere guys."
Beaton has impressed in the shorter formats of recent. In the last Regional Super50 earlier this year, he claimed 14 wickets at 20 runs apiece and also picked up 11 wickets at an economy rate of 7.7 runs in the Caribbean Premier League this year.
He was selected for the ongoing T20 series against the Black Caps but was forced to return home after picking up a side strain.
Beaton is the second West Indies bowler in the last five months to be reported for a suspect action, with part-time off-spinner Kraigg Brathwaite suffering the same fate following the first Test against England last August.
Brathwaite was subsequently cleared by the ICC to resume bowling following a range of tests on his action.
Sir Viv, also the most dominant batsman of his era, said it was important coaches kept a close technical eye on bowlers' actions so issues could be addressed from early.
"Sometimes we see them here and we don't quite take notice of that and I think that when it comes to batting it is always nice to let the guys be free and do their thing, especially when you are a young individual – for you to enjoy it without all the technical knowledge at that stage," he explained.
"But when it comes to if a player needs to go a bit further in the bowling department [it is important] that we try and identify that as early as possible."
Beaton is now required to undergo testing within 14 days but can continue bowling until results of these tests are known.
Around the Web