PORT OF SPAIN, Trinidad, CMC – Trinidad and Tobago's Prime Minister Dr Keith Rowley has warned that West Indies could face relegation from the top tier of international cricket if the regional game continues in its current state of crisis.
Laying the current demise at the feet of Cricket West Indies (CWI), Rowley said nothing proactive was being done to salvage the situation but rather, administrators were simply hoping for a "miracle" in order to turn things around.
"My perspective is that West Indies cricket is in dire trouble, in crisis, and if we are not careful, something is likely to happen in the not too distant future even though it is not being spoken about now,"
Rowley told I-Sports radio programme here at the weekend.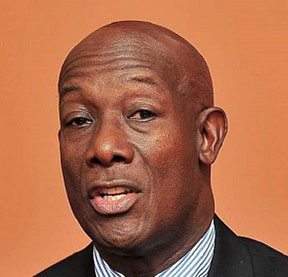 "I don't know that the ICC (International Cricket Council) will continue to put this sub-standard West Indies team to play against the top five or six teams going forward into many more years.
"What I am frighten of is that somewhere in the not too distant future common sense will prevail at the ICC and they will create some kind of a premier league and a second division and West Indies cricket will end up in the second division because of the standard we are displaying and we will end up playing cricket against Ireland, Scotland, Kenya and Afghanistan and that is where we're headed."
Rowley was speaking against the backdrop of the CARICOM Heads of Government summit in Grenada last week when West Indies cricket emerged as one of the hot topics.
CARICOM chairman, Grenada's Prime Minister Dr Keith Mitchell, used his opening speech to outline the challenges facing the sport regionally and to urge fellow leaders to find consensus on the way forward.
Rowley agreed with Mitchell that CARICOM had a vital role to play in helping to overhaul the sport especially since CWI seemed unable to find solutions to the current crisis.
"They believe that some miracle will take place and some superstar like Brian Lara or Andy Roberts will appear from the crowd and pull us back from this brink," Rowley said candidly.




"But in the meantime we are handling large sums of money from the ICC, unearned money, and those monies are used to strengthen people who are in office, who literally dominate the game, not on the field but in their boardrooms."
The debate over West Indies cricket also appears to have caused a rift in CARICOM with Antigua and Barbuda Prime Minister Gaston Browne openly disagreeing with the regional nation grouping's position on the "immediate dissolution" of CWI.
In a statement last week, Browne said: "Antigua and Barbuda as a matter of principle does not interfere in the internal affairs of institutions, and governments that are governed by democratically elected officials."
But in dismissing that argument, Rowley said Browne seemed to have "anchored his position on some discussion about democracy."
"We here in Trinidad and Tobago know that does not apply and that's what in the court in Trinidad about the absence of democracy in the selection of leadership," Rowley stressed.
He, however, conceded there was disunity among CARICOM on the contentious topic.
"I think there is tremendous confusion about the way forward," said Rowley.
"What is happening at the level of heads at CARICOM should make it clear to the other people that the game is now and the management and the situation is threatening to destroy CARICOM itself."
Comments
NEW DELHI, (Reuters) – Royal Challengers Bangalore learnt the hard way that star power does not always guarantee success after succumbing to the lowest ever score in the Indian Premier League (IPL) in Sunday's match against the Kolkata Knight Riders.
COLOMBO, (Reuters) – A fit-again Angelo Mathews will lead Sri Lanka in June's Champions Trophy in England and Wales, the cricket board announced yesterday, unveiling a 15-member squad which also includes maverick paceman Lasith Malinga.
CAPE TOWN, (Reuters) – Former South Africa bowler Lonwabo Tsotsobe has been charged with match fixing and has been suspended immediately after a lengthy investigation, Cricket South Africa said yesterday.

PORT OF SPAIN, Trinidad, CMC – Colin Munro smashed a sensational maiden Twenty20 hundred but it proved in vain as Guyana Amazon Warriors produced an audacious run chase to shock Trinbago Knight Riders by six wickets here Saturday night.

The Indian Premier League will have a new champion either one of Royal Challengers Bangalore or Sunrisers Hyderabad, who will come up against each other in the Final of VIVO IPL 2016, will be crowned champions tonight.