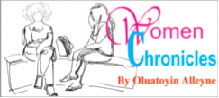 Today we begin a series which focuses exclusively on the raw experiences of women all across the country. These could range from the heartbreaking to the witty, from the mundane to the exciting. Whether it is the struggle to make ends meet on a small salary, the sheer joy of a new baby, the fight for justice, or even the difficulty in accessing certain services; these will be stories that might otherwise not be told. They will be presented unfiltered. Whenever possible tips and advice will be given.
Just over a month ago, 30-year-old Mavis, a mother of four, left her matrimonial home of 13 years. Mavis said she took the bold step following another sad episode of physical, verbal and emotional abuse at the hands of her husband; she packed up her four children and left. Her husband gave no resistance, hinting in his remarks that she would be back.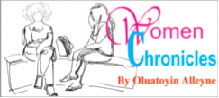 Mavis made no report of the abuse; for her, she just wanted to get away. But she pointed out that she lived in an area where there was no police station/outpost, nor any other support system.
Weeks later and following one attempt by her husband to cajole her to return home with the help of some elders in the community, Mavis got the shock of life when she received a letter from a probation officer instructing that she visit the office at a specific date and time.
Struggling with finances and the fact that the probation office was far from where she lived, Mavis still ensured that she followed the instruction given in the letter.
Mavis arrived before the appointed time and was told that the officer was engaged. She looked around at the sparsely furnished office which had a bedraggled appearance and to boot there were no available seats. Mavis said she became agitated as she was forced to walk from corner to corner with her youngest child in her arms.
Mavis did not put it in these exact words but from what she said it was understood that the sheer weight of the child and of her ongoing situation caused her to just want to leave the office.
Eventually, after the appointed time and following some intervention, Mavis was allowed to see the officer who informed her that her husband had approached the office to request couple's counselling since he wanted her to return home.
"Do you want him back?" Mavis said she was asked and she responded "No."
The officer then asked her, "But is why you leave and where you living now?"
At this point, she said, she informed the woman of the abuse.
"Well since is abuse I have to give a letter and refer your case [to the court]," the officer continued.
On hearing those words, Mavis said, she got an instant headache, because she figured this would add to her already pressured existence.
Mavis then gave a verbal statement about the abuse which was recorded in writing by the officer.
Less than an hour later, she left the office more confused than when she had arrived and anxious about how long the process would last as her three older children were miles away and she was worried about their care.
She was not offered any counselling with regard to the abuse she reported, nor was she told what the process entailed; she said the officer seemed more concerned over the fact that her husband had not kept the appointment when it was he who had approached the office in the first place.
Despondently—Mavis said if anyone looked at her they would see she had the "world of problems"—she made the trek to the court and after talking to two women she was finally shown into a room where a man—who did not identify himself—was seated. She figured later that he was a court official because of how he answered the office phone.
Upon informing him as to the purpose of her visit, Mavis said, the man launched into an explanation of how long the process would take, warning her, if "you make a statement you can't turn back."
Mavis said she became even more worried when she was told, "You will have to take the police to find your husband" and that "the case may not be till next week" and even further "it may last for a week." Told to think about it Mavis quickly came to the decision that she would not file the report then. Firstly, she was financially incapable of remaining in the area for a week; secondly, she was worried about her children, she had just about enough cash for "passage" (transportation) to return to her location miles and miles away.
In the end, Mavis tucked the letter and another that was given to her to summons her husband for support into her side purse and slinked out of the court compound telling herself "I would come back when I get money."
As she walked back the way she had come, Mavis said, she met her husband, who had turned up late for the appointment and must have been told by the probation officer what had transpired. Mavis said they had some back and forth with him telling her he wanted her to return home with the children. She told him to expect a letter to appear in court; he begged, she resisted and then she left.
She journeyed back to her location confused from the experiences she had during the entire three hours she spent between those two government offices. Mavis swears she will not return to the home she shared with her husband since her teenage years, and maybe she will file that report one day.
Women's Chronicles will remain in contact with Mavis (not her real name).
Around the Web