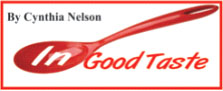 This peasant dish of ground meat and mashed potatoes feeds a crowd, and at its best, it is comfort food. Back in the day, there was a clear distinction between Shepherd's Pie and Cottage Pie, depending on the meat used. If ground lamb or mutton was used, then it was Shepherd's Pie (shepherds look after sheep), however, when made with ground beef, it was called Cottage Pie. If we were to strictly adhere to the rules of the naming of the pie, then this would be Cottage Pie since it is made beef.
A generous serving of Shepherd's Pie along with a green salad makes a very satisfying meal. The key to a good Shepherd's Pie (at least to me) is the meat sauce – it should be well flavoured with a thick sauce, not dry. The addition of vegetables is welcomed but I won't fret about it, especially if serving with a salad. Nevertheless, this recipe includes vegetables.
INGREDIENTS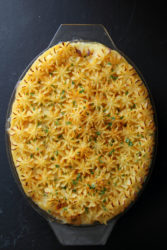 For meat sauce:
4 tablespoons oil
2 cups diced onions
2 cups diced carrots
2 cups chopped stalk celery
3 tablespoons finely minced broad leaf thyme
Minced hot pepper to taste
2 teaspoons grated garlic
Salt to taste
2 tablespoons plain flour
2 pounds ground beef (I used an 80-20% grade of beef; 80% meat, 20% fat)
3 cups vegetable stock
2 cups fresh pureed tomatoes (see notes)
4 tablespoons Worcestershire sauce
3 teaspoons soy sauce
1 bay leaf
1 teaspoon brown sugar (see notes)
For topping:
3½ – 4 pounds potatoes
½ cup whole milk
2 tablespoons butter (salted or unsalted)
1 tablespoon melted butter
Salt and white ground pepper to taste
A pinch grated nutmeg (optional)
DIRECTIONS
For meat sauce:
Add oil to a large pan and place over high heat until hot.
Add onions, carrots, celery, thyme, hot pepper and garlic along with salt to taste. Toss well to mix, reduce heat to low and cook until the vegetables are softened and the pan is fragrant. Do not let the veggies brown.
Sprinkle in the flour and cook with veggies for 1 – 2 minutes.
Raise heat and add beef, toss to mix with the veggies and cook until the meat is no longer pink.
Pour in stock and pureed toma toes along with Worcestershire sauce, soy sauce and bay leaf. Stir to mix, bring to a boil and reduce heat to low and cook uncovered for 30 – 35 minutes or until meat is tender and sauce has thickened.
Taste and adjust seasoning. Remove from heat and set aside.
Make topping while meat sauce is cooking.
For topping:
Boil and mash potatoes with milk and butter until smooth.
Season with salt, pepper and nutmeg; set aside.
Assembly:
Preheat oven to 400 degrees F.
Spread the meat sauce evenly in a deep ovenproof baking dish (use more than one dish if you like).
Spoon and spread the mashed potatoes over the meat sauce. Sprinkle with melted butter and bake for 25 – 30 minutes or until the top is golden and there is little browning around the edges.
Remove from oven and let sit for 15 minutes before serving.
NOTES
This recipe was tested with fresh tomatoes, pureed – chopped tomatoes pureed in a blender then passed through a sieve. If using canned tomato puree, use only 1 cup and dilute it with 1 cup of water.
Only add the sugar if you find that there is tartness to the meat sauce because of the canned tomatoes.
Grated cheese can be added to the mashed potatoes and used to top the pie before going in to the oven.
Instead of having to add salt to the mashed potatoes, I cooked the potatoes in lightly salted water so they were better seasoned.
If you would like to have a decorative piped topping for the pie, spread most of the mash smoothly over the meat sauce then pipe the remaining mash over the smooth surface. Alternately you can make a design with a fork or the back of a spoon.
Around the Web