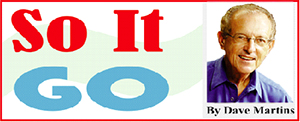 In my early days travelling the Caribbean with Tradewinds, my head immersed in music, tourism to me was essentially a somewhat monolithic operation, made up largely of airplanes, hotels, white-sand beaches, and blue water; that's how it struck me.   I saw the tourist as essentially someone coming to these Caribbean havens – St Maarten, Antigua, Barbados, Jamaica, etc – looking for those things.  As one travel agent in America told me, "People come in here to pick out a holiday.  A major question for them is 'How far is the hotel from the beach?' Many of them ask you that even before they ask you price."   I thought that was the tourism package – plane, hotel, beach; maybe car rental.  Living in the Cayman Islands from 1980 onwards, and then married to the country's Director of Tourism, I learned better.  I came to see that a bustling tourism operation is actually not a monolith at all; it is a complicated structure with a variety of pieces all contributing to the essential whole.
Living in a tourism economy it gradually dawned on me that a tourist is essentially living in a country for several days, so with the exception perhaps of income tax, that visitor is actually affected by everything affecting residents – health services, quality of utilities, entertainment, level of crime, potable water, sanitation, road network, air quality, etc.   It may seem an obvious conclusion, but it came to me only after living in the tourism destination of Cayman and after I had been given the job of Executive Director of Pirates Week, Cayman's National Festival.  I was talking in my office one day with an American visitor, curious about the Festival.  When I told her it was two weeks away, she said, "Oh, great.  I'll still be here."  I was surprised ‒ most visitors don't stay that long – and almost instantly the thought hit me that this woman, whom I saw as passing through, would actually be in the island for about three weeks; in effect, she would be living in Grand Cayman almost a month.  Driving home later that day, on the single road heading east, I hit a major traffic jam and sitting in the car stewing at the stop-and-start drive, I suddenly remembered the visitor earlier and I thought: she's probably stuck in this jam and stewing just like me.  That's when the bulb lit up.  I saw for the first time that though the beach and the sun may have drawn them, visitors to Cayman had in fact come to live in the island for a few days and their satisfaction would depend on finding all the everyday things working well – hospital, electricity, security, dining, roads, entertainment, etc.  In short, tourism was all those things. Coincidentally, there was an example of those tourism consequences here this very week with the erection of an arch on our East Coast creating monstrous traffic jams; imagine a visiting family coming from Mahaica, headed for a Timehri departure, and running into that?
A few days ago, asked by our Director General of Tourism, Donald Sinclair, to chair one of the sessions in a Sports Tourism Seminar/Workshop put on by the Ministry here, I noticed that several speakers stressed the diverse ingredients of successful tourism; as one speaker, Vincent Alexander, termed it, the vital cross-sector aspect of the industry. Featured speaker sports consultant Joseph 'Reds' Perreira touched on it in his wide-ranging remarks when he suggested a "special desk", or designated officer, in the Ministry of Tourism to deal with all the contingent aspects as they relate to other ministries. With approximately 20-plus sports organisations in attendance, Mr Perreira congratulated the Ministry for "taking steps to join the rest of the Caribbean in becoming involved in the sports tourism niche market." He noted that product development would take time and effort, and recommended that sports groups contact UK sports tourism operators to signal Guyana's serious interest in being included on their Caribbean schedules. From his involvement with Sports Tourism in the region, he also stressed the need for a high standard at events (grounds, lighting, parking, toilets, etc). In the overall, while he wasn't using my "monolith" analogy, Mr Perreira was making the same point.
In the workshop sessions, as well, that followed the introductory speakers, the topics dealt with there reflected this umbrella view. Groups cited the importance of cooperation with Customs and Immigration for arriving teams and followers, and the need to have appropriate medical and/or emergency personnel at the various Sports Tourism events, as well as a legislative framework providing guidelines for the events.  The sessions also iterated the need for having facilities at an expected international standard, and proposed that organising leisure activities for visitors be part of the remit of a "special desk" in the Ministry or of a designated officer. The workshops also identified a number of events that could be organised for 2018, some in fact for this year, and some beyond. The suggestions included Caribbean Swim Meet, International Motor Racing, South American Junior Track and Field Meet, Caribbean Schoolboy Boxing Championship, and an International Shooting Competition.
Ultimately, a key factor here will be the buy-in from the various entities, both public and private, that make up the successful tourism package, and a good example is the decision in Barbados (I'm going back here some years) to include a tourism awareness component in their country's education curriculum so that young Barbadians would grow up very much persuaded that, as the cliché puts it, "Tourism is everybody's business."  One has to hope that we can get to a similar state here.
The success of our Ministry of Tourism, whether in Sports Tourism or Tourism generally, no matter how committed and efficient, will depend to a significant extent on the level of that wider awareness percolating through other ministries and the private sector. When I lived in Cayman, for example, it was standard practice for the hospital to provide emergency medical teams on stand-by during the Pirates Week downtown street dances, with an ambulance; and the Fire Department would arrive promptly with their tenders to wash down the streets when the dance was over at 1 am, leaving the area spick and span for the coming day. What's the Fire Department and the hospital doing in tourism? The answer is, playing a vital role.
Our Sports Tourism efforts, indeed all our tourism work, depend on a similar buy-in from other arms of the government and the private sector here. Tourism is no monolith.